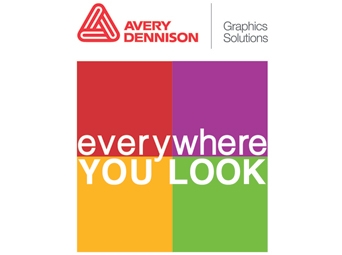 Avery Dennison Graphics Solutions announced the addition of sixteen high gloss colors to the 700 High Performance Calendered Film Series. The enhanced portfolio, featuring high gloss, gloss, semi-gloss and matte finishes in 75 colors, is the first product portfolio to be showcased in the new Avery Dennison® Everywhere You Look™ campaign, which will run throughout 2014.
The Everywhere You Look campaign highlights how Avery Dennison® digital and opaque films can be used in a myriad of applications ranging from streets and sidewalks, to billboards, walls, vehicles and trucks. Everywhere You Look kicks off by focusing on Avery Dennison's high quality calendered vinyl films, ideal for interior and outdoor graphics with intermediate durability.
"In addition to profiling the wide range of applications where Avery Dennison films can be used, the Everywhere You Look campaign will offer customers the opportunity to submit photos or videos spotlighting projects with Avery Dennison's wide range of films," said Abigail Gibbs, North America marketing specialist, Avery Dennison Graphics Solutions. "By submitting their projects, customers will be entered to win free film, trips and exclusive savings offers."
Customers who submit a photo or video and story showcasing a cut vinyl project with Avery Dennison film will be entered to win $1000 worth of free cut vinyl film during the first phase of the campaign. A winner will be chosen each week from February 17, 2014 to April 30, 2014.
700 High Performance Calendered films boast extended outdoor durability for up to six years. The portfolio's StaFlat™ liner, improved quality and Easy Apply™ technology help keep the film flat for precision cutting and weeding.
Samples of the 700 High Performance Calendered portfolio and a $70 rebate on the purchase of 7 rolls of 50, 100 or 250-yard film can be requested via everywhere.averydennison.com.