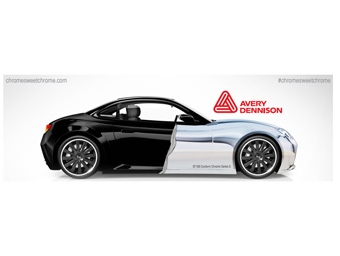 Avery Dennison® Graphics Solutions today launched the Chrome Sweet Chrome promotion highlighting the versatility of vehicle wrap films and how they can be used to create full or partial car wraps. Car enthusiasts can enter the promotion through text message, by completing the form at graphics.averydennison.com/chrome and in-person at eight partner booths at the 2014 Specialty Equipment Manufacturers Association (SEMA) Show in Las Vegas, November 4-7, 2014. Daily prizes will be awarded in addition to the grand prize, a total vehicle makeover including a full Avery Dennison car wrap, Giovanna wheels, a DUB audio package, and a Croftgate cleaning care kit.
"Avery Dennison® Conform Chrome films are extremely popular with vehicle wrap installers and car enthusiasts," said Erin Harmon, North America segment manager, Graphics Solutions at Avery Dennison. "Many cars on display at the SEMA Show feature Avery Dennison chrome films. The Chrome Sweet Chrome promotion is intended to increase awareness among the restyler and customizer community that vehicle vinyl wrap films can be used to customize a car or truck's appearance."
SEMA show attendees can enter to win the grand prize by finding an Avery Dennison representative in Booth #12286 or partner location, including West Coast Customs (Silver Lot), CroftgateUSA (#13019), DUB Magazine (DUB Live), Advantage Sign (#12850), Eagle Enterprises (#12761), Universal Products (#12822), Oracle Lighting (#11627), and Toyo Tire (Toyo Treadpass). The Avery Dennison representative will give attendees a Chrome Sweet Chrome sticker, and explain the rules of the promotion.
Avery Dennison Conform Chrome Red was recently added to the Conform Chrome Accent Film line, joining Silver, Gold, Blue and Black. With the addition of this new color, the Avery Dennison® Supreme Wrapping Film line now includes eighty-seven opaque cast films in gloss, matte and brushed metallic, matte, pearlescent, carbon fiber, conform chrome and satin finishes.
"Conform Chrome Red is exactly what I've come to expect in films from Avery Dennison—a fun new color, excellent conformability and easy to install," said Carl Brewer, of The Wrap Installers. "I can't wait to see the colors Avery Dennison has in store for the future."
All Avery Dennison chrome-colored films feature a mirror-like finish that creates a high-end look for vehicle wraps. The films are extremely conformable, allowing for application on rounded vehicle features, like side-view mirrors, striping, and door handles.1
Avery Dennison Conform Chrome films are constructed with appearance and ease of installation in mind. Easy Apply RS™ technology allows installers to easily reposition and slide the film into place, reducing air bubbles and minimizing the installation time. In addition, due to its construction, no overlaminate is required before installation.
Please see official rules and how to enter at http://graphics.averydennison.com/chrome. Samples of Avery Dennison Conform Chrome Red are available from [email protected]. To find an Avery Dennison Certified Distributor in your area, visit the Find a Distributor page on the Avery Web site.
For graphics resources and more information on where to buy Supreme Wrapping Films, designers and printers can visit graphics.averydennison.com or contact Avery Dennison at 800/282-8379 for additional information.
1The user is responsible for determining the product's suitability for the intended application. This product should be used on a test-and-approve basis.
Some states may have laws or regulations on the use of chrome or other mirror-like finishes on vehicles, which may include passenger vehicles and vans. The user is responsible for determining and complying with all applicable standards.