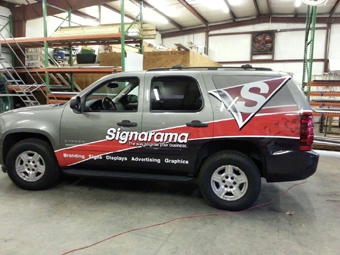 Avery Dennison announced today that it has been named a preferred partner for Signarama's worldwide rebranding campaign, which is currently underway. Signarama is the world's largest sign business franchise approaching 900 locations in more than 50 countries.
"Our franchisees are very excited about the new branding and the opportunity to utilize Avery Dennison vinyl products to execute the new look and retail standards we are rolling out around the globe," said Signarama President "JT" Jim Tatem. "Avery Dennison has been a Signarama partner for many years. Our franchisees appreciate the breadth and quality of Avery Dennison's cast and calendered products for a variety of applications."
In 2013, Signarama embarked on a branding research project that reaffirmed its position as a 'premium' brand that provides expertise and a customized approach. Signarama's new branding — including a contemporary color scheme, new logo, tagline and icon — is being rolled out across the hundreds of locations around the world, this year.
"Signarama and its network of franchises around the world are important customers for Avery Dennison," said Bill Podojil, sales director, Avery Dennison Graphics Solutions. "We are proud to partner and support their rebranding campaign with our high-quality, easy-to-install cast and calendered vinyl film products."
Franchisees have the opportunity to utilize Avery Dennison® High Performance 700 calendered films in addition to cast and calendered digital media films and overlaminates, window films and Etchmark. Avery Dennison MPI 1005 Supercast Easy Apply RS™ and DOL 1360 are a popular combination for vehicle wraps because they are easy to use and quick to install with excellent printability, that are available as well. Franchisees will use a variety of Avery Dennison vinyl films to create new window graphics, vehicle wraps and lobby displays.