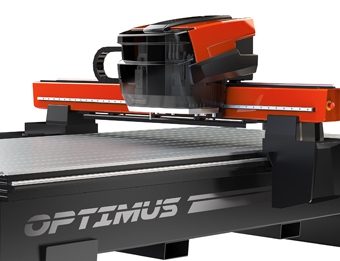 AXYZ International, a leading global manufacturer of CNC router and knife cutting systems, will be exhibiting specially selected products and technologies at the International National Woodworking Fair (IWF) 2016 on August 24-27 at the Georgia World Congress Center in Atlanta, Georgia.
A highlight of their exhibit will be the unveiling of their new machine specifically designed for cabinet making applications. "It is called Optimus and it is more than just a machine. It's a complete solution including software, dedicated machine and a range of specially designed options," said Greg Jenkins, Vice President, Sales for AXYZ International.
AXYZ is partnering with Cabinet Vision, a leading supplier of award-winning software for woodworking professionals, to provide a powerful, easy to use and well-supported system.
IWF is one of the world's largest trade shows for custom and general woodworking industries, furniture manufacturing and architectural woodwork, with over 450 exhibitors in attendance. Cabinet making professionals can learn more about the Optimus machine and what a CNC solution can do for them when they visit the AXYZ booth. In addition, they can find out more about automating their production and discuss their specific applications with industry experts.
A full range of process areas, tooling and configuration options will be available on the Optimus to suit all production requirements. Full details, pricing and special offers will be announced during the IWF. For more information, please register at www.axyz.com/optimus to be among the first to receive additional details on the Optimus solution.
Visit AXYZ International at Booth #8329 during the IWF 2016. Tradeshow floor hours are August 24-26 from 8:30 a.m. to 5:00 p.m. and August 27 from 8:30 a.m. to 4:00 p.m. For more information, contact the AXYZ sales staff at 800/361-3408.