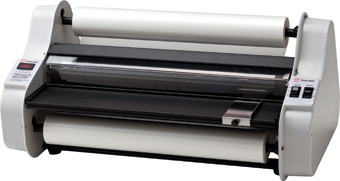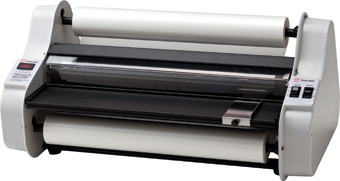 Banner American Products, Inc., has launched its redesigned Easy-Lam™ roll laminator. After twenty years and 30,000 units sold, the Easy-Lam™ roll laminator now includes value-added solid-state heat control with LED readout.
The new Easy-Lam™ features an all-new look, as well as a top and bottom front loading capability. The Easy-Lam™ comes pre-loaded with two 1.5-mil 100-foot sample laminating rolls.
The Easy-Lam™ roll laminator has remained one of the most sought after roll laminating machines on the market. Made in America, the Easy-Lam™ roll laminator includes an adjustable supply roll tension, attached safety shield, Teflon® coated heat shoes, reverse feature and heavy-duty DC motor.
Easy-Lam™ is available in 220 volt, has a plastic width of 27 inches (68.6 cm) and maximum speed of 4.5'/minute (1.4m/minute).
For more information on this product or other accessories and products from Banner American Products, visit www.banam.com.