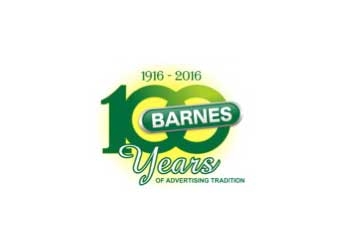 Barnes Outdoor Advertising, the oldest and largest outdoor advertising group in Southeastern Ohio, announced its year-long celebration of its centennial anniversary in 2016. Featuring community events, charitable fundraisers, and a nostalgic look back over the last 100 years, the celebration is designed to highlight the firm's dedicated client base and its unique relationship with the Southeastern Ohio region.
Established by Erwin M. Barnes as "The Zanesville Outdoor Company" in 1916, the firm quickly developed a reputation for its services and dedication to the local community. Following Erwin's death a few years later, his son Beryl took over, eventually changing the name to Barnes Outdoor Advertising to better represent the company's rapid expansion into other counties throughout the region. Additional company milestones include:
David and Roderick Barnes assumed leadership of the company following Beryl's death in 1971.
1982 – David Barnes becomes sole owner following Roderick's death.
2009 – After leading the company for 27 years, Roderick retires and leaves the company to his children Maryjane Shackelford and John Barnes whom become the fourth-generation of Barnes Outdoor advertising family ownership.
2013 – Barnes donates 535 billboards worth a combined $353,000 in one year to local organizations, including Rotary, Big Brothers Big Sisters, American Red Cross, the Salvation Army, and the Veteran's Association, among others. This level of giving highlights the firm's continued commitment to giving back to the local community.
2016 – Barnes celebrates 100 years!
In celebration of its centennial anniversary, Barnes will hold a number of events open to the general public, including:
May 24 – Open house at Barnes Outdoor Advertising that will feature photographs and anecdotes highlighting a century of building relationships with its clients.
Sept. (Date TBD) – Based on the family's love of music, Barnes Outdoor Advertising is working on hosting a surprise concert at the Secrest Auditorium, with all proceeds going to local charities.
Additionally, over the course of 2016, the company will feature various clients and vendors – some of which it has worked with for more than 45 years.
"Many things may have changed at Barnes over the past century, but our commitment to providing the highest-quality marketing solutions to our family of clients, in addition to our dedication to Southeastern Ohio, has never wavered," said Maryjane Shackelford, president of Barnes. "Over the next 12 months we look forward to reliving the past, enjoying the present, and discussing the future with all of those who have kept this aggressive family-owned company in business for the last 100 years."
Specializing in outdoor marketing solutions, including traditional and digital billboards, as well as outdoor signage, Barnes owns nearly 600 print and eight digital billboard faces throughout fifteen counties in Southeastern Ohio. Comprised of fifteen people, the firm's team is dedicated to developing a lasting partnership with every client, some of which have worked with Barnes for nearly 50 years.