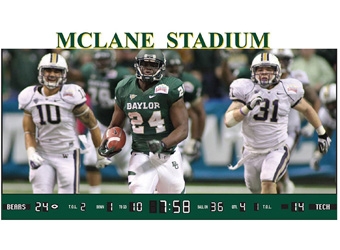 As Baylor Bears football fans and players open the 2014 season in their new home, McLane Stadium in Waco, Texas, they will also experience a new LED video display designed and manufactured by Daktronics of Brookings, South Dakota.
"McLane Stadium will afford Baylor fans an exceptional fan experience featuring state-of-the-art Daktronics ribbon boards and one of college football's largest and most dynamic video boards," said Ian McCaw, director of athletics at Baylor University.
The end zone display will measure approximately 47 feet high-by-107 feet wide and will feature a 15 HD pixel layout. It is capable of showing one large image to highlight live video and instant replays. It can also be divided into separate windows to show a variety of vivid graphics, colorful animations, up-to-minute statistics, scoring information, and sponsor recognition.
McLane Stadium will also receive ribbon displays measuring a total of 1,254 feet in length. These ribbons will cover the horseshoe configuration of the stadium and display multiple sponsors, in-game statistics, out-of-town scores and crowd prompts.
All of these displays will incorporate excellent image clarity and contrast with wide angle visibility while providing multiple levels of protection from the elements, helping every fan to see the game in the best quality.
The installation also includes a Daktronics fixed-digit scoreboard providing score, time outs left, down and distance, game time remaining, and quarter information. Austin-Commercial, a construction firm that has a growing sports stadium portfolio will serve as the general contractor on the project and coordinate the installation with Daktronics.
Daktronics will also be including its powerful Show Control System with this installation. This industry-leading system provides a combination of display control software, world-class video processing, data integration and playback hardware that forms a user-friendly production solution. For more information on Show Control, visit www.daktronics.com/show.
In addition to the equipment installation, Baylor will also receive a bank of hours for the creation of digital content to be produced and delivered by Daktronics Creative Services. This content will consist of any mixture of sponsorship messages, crowd prompts, headshots, game opens and venue announcements at the request of the university.
"Daktronics is excited about the opportunity to be a part of the new McLane Stadium project. We appreciate Baylor's confidence in our products and services and look forward to providing a WOW FACTOR for Bears fans in the new stadium," said Dan Fjeldheim with Daktronics.