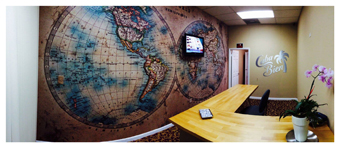 Black Box Creative is a full-service creative studio based in Miami, Florida offering wide format design and installation wall graphics for businesses with big ideas. Black Box Creative first saw Presto Tape's wall graphic products, including CanvasTac, at the SGIA Show 2013 in Orlando, Florida. The material advertised revolutionary features such as its patented adhesive-backed canvas which is repositionable with a clean removal and a memorable thickness and texture. CanvasTac is printable with UV, latex, solvent and eco-solvent inks.
Creative Director Marcos Albernas says, "It is a noble and very easy to install, an attractive material that is comfortable to the touch and easy to handle."
Black Box Creative first used CanvasTac for a wallcovering for the Green Bar & Kitchen restaurant located in Fort Lauderdale, Florida. The wallcovering is 23.6-by-7 feet and was printed on the Mimaki JV33-160 solvent printer. The wallcovering was also liquid-laminated with a matte coating to ensure no scuffing or damage to the wallcovering. The wallcovering was installed using the butt seam method, installing the panels edge to edge.
Installer Eduardo Fernandez of Black Box Creative says, "It was very easy to work with the material. The CanvasTac was easy to handle and apply, I was very surprised at how durable the material really is, and it's hard to scuff the material."
Green Bar & Kitchen loved the CanvasTac wall mural and requested Black Box Creative extend the same wall mural design to two additional franchise locations.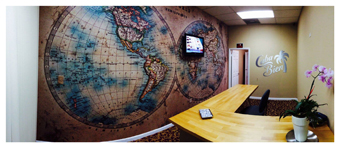 In addition to the Green Bar & Kitchen project, Black Box Creative used CanvasTac as a wall mural for Cuba Bien Travel located in Miami, Florida (pictured, right). The wall mural had overall dimensions spanning 21.8-by-10 feet and was also installed using a butt seam method, applying the panels edge to edge with 4.3-by-10-foot sheets.
Black Box Creative uses samples they design themselves to display the possibilities with CanvasTac. These custom samples showcase the print quality and the repositionable adhesive, so customers can feel the material. "Our customers appreciate the texture, the printing resolution, the thickness and the endless possibilities of applications on different surfaces," says Marcos.
Black Box Creative also installed a CanvasTac wall mural for their workshop (pictured, below). The wall mural is 20.6-by-10 feet, and the mural serves two purposes.
"The first purpose was to be decorative," says Marcos. "The second was to show the possibilities of the material, the range of colors, and the ability to change the space, to create without limits with a budget. The material is very flexible. It adapts to many surfaces and can camouflage errors in construction of the walls.
"The fact of being repositionable shortens the installation time even when the graphics are very detailed and requires accuracy."
Marcos, expanding on how CanvasTac helps small business owners, says, "Customers are attracted to CanvasTac because of its features, especially when it comes to budget. It is a fact that for small businesses—the resources are limited in décor and advertising. For most small businesses, their spaces are leased; they value the idea that if in the future they relocate, graphics can be reused, and even more, walls do not suffer any deterioration. Due to its thickness, the CanvasTac is the perfect material for any wallcovering or wall mural.
"These indirect values make CanvasTac even more of an interesting material, and local customers think of CanvasTac first for wallcoverings above any other brand and/or material."
Black Box Creative recently acquired another large format printer, the HP 360 Latex. Both of these wide format printers will allow Black Box Creative increased options in regards to print quality and range of colors to provide more options to their customers in an increasingly competitive market. "We will continue to use and create with the CanvasTac," says Marcos. "The possibilities offered by this material give life to our creations is what most we like."
For more information on CanvasTac visit www.prestotape.com. To learn more about the services offered by Black Box Creative visit www.blkboxcreative.com.