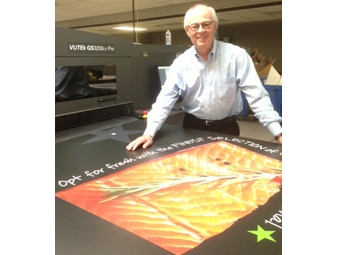 EFI™, a world leader in customer-focused digital printing innovation, announced that commercial graphics firm Blanks Printing has upgraded its print production platform to include a pair of EFI VUTEk® GS-series LED products, a 3.2-meter VUTEk GS3250LX Pro hybrid flatbed/roll-to-roll inkjet printer, and the new 3.2-meter VUTEk GS3250LXr Pro roll-to-roll inkjet printer.
The Dallas-based, family-owned company made its latest equipment purchases to meet growing demand from clients, many of which are national and international retailers. Blanks Printing now has greater flexibility in the types of superwide-format graphics and point-of-purchase signage it provides, as the printers' "cool cure" LED technology handles standard graphics substrates, as well as lightweight and thin media that cannot withstand the heat of traditional drying or UV curing processes. The printers not only allow for a new range of unique applications, LED's significant benefits as a green production technology's is helping Blanks Printing decrease its power consumption, minimize waste and reduce overall operating costs.
Blanks Printing President and Owner Leron Blanks decided on the printers after seeing them demonstrated at EFI's Inkjet Solutions facility. "Not only was the quality outstanding with these printers," said Blanks, "but they were significantly faster than our previous printer. I also liked the LED curing of the UV ink both from an environmental perspective and because of the wider range of materials I could run."
Soon after the visit with EFI, Blanks Printing became the first printing company to install both the VUTEk GS hybrid and dedicated roll-to-roll LED platforms. The LED inkjet printers quickly generated an influx of new, profitable sales for the company, according to Leron Blanks. "We have offered superwide-format printing for the past five years," he said, "but in our first full month with the new LED VUTEk printers, we set a company record for superwide-format revenue."
Blanks Printing expands its reach in superwide-format graphics
Not content to simply meet existing demand, with the EFI VUTEk GS3250LX Pro and GS3250LXr Pro printers, the company is pursuing profitable new opportunities that were previously out of reach. While the hybrid model printer has taken on the growing volume of rigid-substrate graphics work the company offers, the roll-to-roll model has helped Blanks Printing win jobs from existing clients who had been sending their superwide-format printing elsewhere.
Unlike other roll-to-roll UV inkjet printers, the VUTEk GS3250LXr Pro printer is ideal for fleet and vehicle graphics that need to withstand stretching and pre- and post-heating without cracking on rivets and convex curves. Blanks Printing is now able to bid on fleet wrap jobs for the first time.
"Commercial printing companies like Blanks Printing are finding that higher-value inkjet graphics create new opportunities to better serve customers," said Frank Mallozzi, EFI's senior vice president of worldwide sales and marketing. "Blanks Printing has taken those profitable opportunities one step further with greener, more productive EFI VUTEk LED printers that offer important competitive advantages."
The EFI Fiery® digital front end Blanks Printing uses on its new VUTEk printers helps the G7-certified company ensure consistent and accurate color. Blanks Printing is also a long-time user of EFI Monarch™ ERP software, which the company uses to manage its estimating, scheduling, and accounting operations.