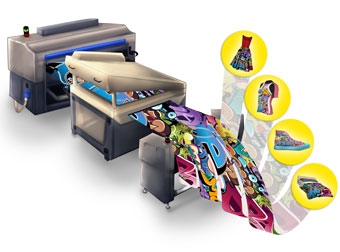 Bordeaux Digital Printink, an inkjet manufacturer for the past sixteen years, will launch its new textile solutions for North America and present its new EDEN PG for textile and PLASMA VG and HF for industrial printing at SGIA, September 14-16 in Las Vegas, booth #948. Bordeaux has proven again it is pushing its limits to new territories.
Presenting for the first time in America, Bordeaux will reveal its one ink for all fabrics with a live demo of its printing line. The new EDEN PG pigment ink is already making its mark in the textile industry. With one ink and one process for all types of fabrics, digital textile printing is simple and easy to implement and allows print shops to print any type of fabric with a single ink and a single printing line.
Receiving the Oeko-Tex and GOTS certifications assures print shops that the EDEN PG meets the highest standards, allowing its use for the most sensitive clothes – baby clothes. Print shops using EDEN PG will be able to now offer their customers any type of textile application using one printing line and process. As it is using one single process with no need for wash and dry cycles, the EDEN PG is also the most cost-effective textile ink solution.
Visitors at Bordeaux's booth will enjoy a full living space designed with Bordeaux's inkjet solutions including textile for fashion and a range of home décor items such as furniture and wall decoration as well as industrial applications such as tiles and customized items.
Bordeaux will also present its solutions for industrial printing, showcasing a range of tailor-made inks for specific applications, as well as the ability to custom-develop UV curable inks for every need. At the show, the high-quality prints of the new PLASMA VG and HF will be displayed.
"Textile printing just got a lot cooler, as you can print any textile on your mind with our new EDEN PG star. This is huge news for the textile market now able to print on any fabric with one ink and one simple printing line for all their fabrics," says Guy Evron, marketing director at Bordeaux. "Our newly developed textile ink solution completes our puzzle as we now offer all solutions under one brand. With our solvent, UV, and now textile solutions, print shops have the advantage of getting a full range of solutions and support from a single and reliable source."