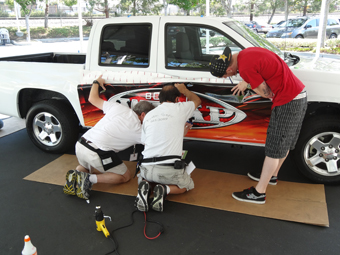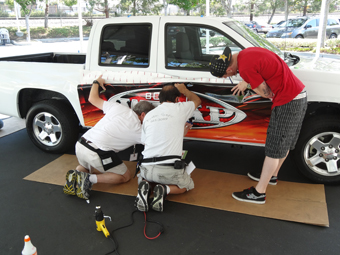 Led by some of the industry's most knowledgeable and experienced professional vehicle wrappers, Roland's "Born to Wrap" workshops go way beyond classroom instruction. Unlike other vehicle wrap courses, these comprehensive two-day events, held periodically at Roland DGA's Irvine, California headquarters, the Digital EFX facility in Louisville, Kentucky, and the Richard Childress Racing Center in Welcome, North Carolina, provide attendees with extensive hands-on training and invaluable "real world" pointers for starting and running a successful wrap business.
According to Matt Richart, "Born to Wrap" workshop instructor and owner of Digital EFX Wraps, Roland's workshops prepare program participants to handle realistic vehicle wrap applications and situations. "Along with teaching them professional wrapping skills, we provide practical business tips—information they need to know to operate a successful shop," he said. "We're talking everything from pricing jobs and handling finances to dealing with existing clients and attracting new customers.
"It took us many years to discover these things, mostly through the school of hard knocks, but through these workshops, attendees can benefit from our experience and learn the essentials in a couple of days."
At the most recent "Born to Wrap" event, held September 5-6 in Irvine, Richart shared his expertise and industry know-how with attendees from across the country, putting them on the road to vehicle-wrapping success. This latest event, like all of Roland's "Born to Wrap" workshops, combined classroom instruction with practical, hands-on application. "After going over various wrap techniques and the use of Roland's advanced printer/cutters, we like to head outside and let the students put what they've learned into practice, Richart explained. "We walk them through the entire process, and we go to great lengths to ensure that the simulated work environment and jobs mirror those of an actual shop."
"Born to Wrap" attendees range from individuals that have never performed a vehicle wrap, to wrappers with a few years of experience under their belts.
Blake Davignon, owner of Denver-based Dirt Candy and a participant in Roland's September workshop, has been doing action sports wraps for a few years but attends at least one course annually to learn more and hone his skills. "I've attended several courses offered by other printer and media manufacturers, but none included the kind of practical information, hands-on training and realistic applications that Roland's 'Born to Wrap' workshop features," said Davignon. "The other courses seemed self-promotional, and in each case, one of the manufacturer's in-house staffers led the class.
"Roland's workshop is dramatically different. The focus is on teaching real-world skills, and the instructor is an experienced and respected wrap business owner that has achieved significant success. Information and advice like that is priceless."
For more information on the Roland's "Born to Wrap" workshops or the complete lineup of high-quality Roland products, call 800/542-2307 or visit www.rolanddga.com.