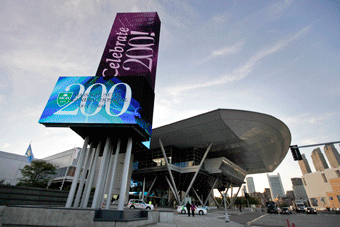 The Boston Convention & Exhibition Center (BCEC) will captivate and engage visitors throughout Boston, Masschusetts, with their new marquee and lobby video wall. Daktronics Inc., designed, manufactured, and installed the light emitting diode (LED) marquee display and indoor video display.
"When it comes to meeting and convention technology, our convention centers continue to set the industry standard," said James E. Rooney, executive director of the Massachusetts Convention Center Authority (MCCA), which owns and operates the BCEC and Hynes Convention Center in Boston. "We are excited to see how the marquee and video wall change how guests experience events in our facility."
The marquee display is surrounded with ProPixel® LED sticks on three sides, and overall it measures 54 feet high-by-44 feet wide. This technology is designed for premium viewing, using ultra-bright LEDs to transform structures into vibrant LED displays. They can be incorporated into structures of any size or shape with video, animation, color effects, text messages and live data.
Two video displays measuring more than fourteen feet high and more than thirty feet wide can show video messages and advertise upcoming events. The video displays incorporate excellent clarity and contrast of video images, multiple levels of protection from the elements, and a more robust cabinet design with an improved ventilation system. All of the displays feature pixels spaced at 16 millimeters.
Indoors the center added a video display with 10 millimeter pixel spacing. This display, which measures more than 12 feet high-by-nearly 60 feet wide, is able to display live and recorded video, as well as showcase sponsors with exciting graphics and animations.
A custom control system was also included in the installation.
The project was developed by the design team of Utile, Inc., SGH structural engineers and with the technology assistance, content programming and operational guidance of Sensory Interactive for the MCCA.
Daktronics was awarded this high profile, trend-setting project because of "their ability to provide an assortment of proven LED video display products, and demonstrating their competitiveness in the market," said Randy Byrd, president and CEO of Sensory Interactive.
"We are very excited to be working with the Massachusetts Convention Center Authority," said Ross Yanco, Daktronics Sales. "This new display system will engage visitors to explore and learn about the daily happenings at the Boston Convention & Exhibition Center. The new marquee will provide information about events happening there 365 days a year."
The largest convention center in New England, the Boston Convention & Exhibition Center opened in June 2004. The center was designed with input from association and corporate meeting planners as well as trade show producers worldwide, and as such offers many customer-focused features, great flexibility and state-of-the-art services. It has 516,000 square feet of contiguous exhibit space, easily divided into 10 different configurations, and 160,000 square feet of flexible meeting space. It is located near the South Boston waterfront, Boston's World Trade Center and across the harbor from Logan International Airport.