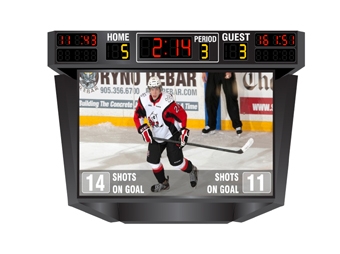 Meridian Centre in St. Catharines, Ontario, Canada, will partner with Daktronics (NASDAQ-DAKT) of Brookings, South Dakota, by featuring a centerhung video display inside their new facility scheduled to open in September of 2014. The new centerhung display will be able to complement all activities occurring at the new facility such as concerts, conventions, athletics and more.
"We're very excited to be featuring another Daktronics installation in one of our facilities as SMG grows our business in Canada," said Ken Noakes, general manager of the Meridian Centre. "It's important to have partners like Daktronics that can supply state-of-the-art technology to our clients.
"Sourcing this leading edge technology, at the right price, helps us reinforce SMG's position as the leading private facility management company in the world."
The main centerhung will include four video displays, each measuring approximately 7.5 feet high-by-13.5 feet wide and featuring 10 millimeter line spacing. These displays will have the capability to show one large image to highlight live video and instant replays. They can also be divided into separate windows to show a variety of vivid graphics, colorful animations, up-to-the minute statistics, scoring information, and sponsor advertisements.
These displays will incorporate excellent image clarity and contrast with wide angle visibility, allowing an outstanding viewing experience for every fan.
The centerhung is raised and lowered using a custom-designed, permanently-installed hoist system from Daktronics rigging. The system, which incorporates the latest in hoisting technology and safety, will be used to support the display at varying elevations depending on the arena's needs.
"Daktronics is excited to be working with and serving multiple customers at this facility," said Ryan Stratton, Daktronics sales representative. "Through providing products and services to the Meridian Centre, we are able to support our current customer SMG and find two new customers with the city of St. Catharines and the Niagara IceDogs. This sale represents an ongoing effort by Daktronics to supply products to all of the OHL in Ontario and the U.S."
In addition to the equipment installation, the Meridian Centre will also receive a bank of hours for the creation of digital content to be produced and delivered by Daktronics Creative Services. This content will consist of any mixture of sponsorship messages, crowd prompts, headshots, game opens and venue announcements at the request of the venue.