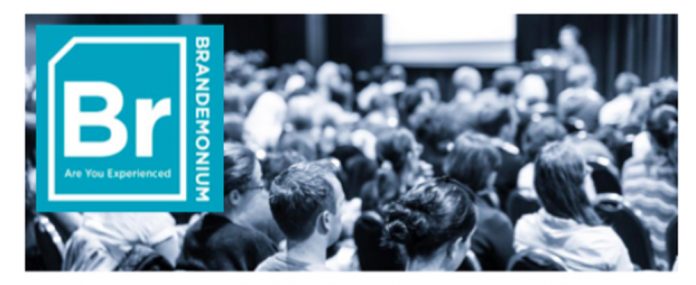 Included among Forbes' list of Marketing Conferences to Check Out, the Cincinnati-based international branding and marketing conference Brandemonium has announced the full schedule and additional speakers ahead of its return for a fifth year on Wednesday and Thursday, October 6-7, 2021, online. The full lineup and schedule is available now.
Speakers include ​​Fidelity CMO David Dintenfass, Progressive CMO Jeff Charney, GORUCK CEO Jason McCarthy, Facebook Measurement Solutions Marketing Manager Catherine Oddenino, Forrester VP and Principal Analyst Dipanjan Chatterjee; MedVet Marketing VP Sarah Berger; and Jeff Dess, Trill or Not Trill Director of Leadership and Engagement, and many more (full list below).
Registration is FREE, Space is Limited!
Typically held in Cincinnati, Ohio, where brand management was born, Brandemonium will return to a fully virtual format for the second year due to ongoing government mandates. Registration for 2021 is free thanks to the generous support from Scripps, Cintas, and CVG. Space is limited, so register early to secure a virtual slot.
A Brandemonium 2021 registration includes the following:
Access to all conference keynotes and sessions (Oct 6-7).
Access to virtual networking – Brandemonium matches attendees for several minutes at a time to simulate the experience of face-to-face networking.
Brandemonium 2021 will focus on looking to the future following a topsy-turvy 2020 and 2021. "The essence of the conference is still brand agility," said Brandemonium Co-Founder Bill Donabedian. "After the last sixteen months, brands have to adapt faster than ever before. We've curated some great leaders in the marketing and branding world to talk about what the future holds."
2021 Theme, Lineup and Schedule Information
This year's Brandemonium theme is Looking Forward, as 2020 and 2021 are shaping up to be the most bizarre years we've ever experienced. How has the recent past changed the future and what challenges do brand and marketing professionals face in 2022?
The current Brandemonium lineup (alphabetically below) includes the following:
Rebeca Arbona, President – BrandTrue
Molly Baker, Director of Operations – Hyperquake
Sarah Berger, VP Marketing – MedVet
Tysonn Betts, Design VP – P&G
James Cadwallader, CCO – Kyra Media
Jeff Charney, CMO – Progressive (Keynote)
Dipanjan Chatterjee, VP Principal Analyst – Forrester
Brian Cobb, Chief Innovation Offier – CVG Airport
Jeff Dess, Director of Leadership and Engagement – Trill or Not Trill
David Dintenfass, CMO – Fidelity
Jamie Grady, SVP, Finance & Operations – Grey Midwest
DJ Hodge, Marketing President – iHeart Cincinnati
Sean Lee, CMO – Amify
Michael Shawn McCabe, President – McCabe Media
Jason McCarthy, CEO – GORUCK
Catherine Oddenino, Marketing Manager, Measurement Solutions – Facebook
Winston Peters, Business & Brand Strategist – MyUberLife
Katie Price Ross, Director, Activations – Curiosity
Sean Rugless, President – The Katalyst Group
Jen Siomacco, Owner – VVITCH Digital Agency
Helen Todd, Co-founder & CEO – Sociality Squared
Jey Van-Sharp, Principal – MyUberLife
Heather Willems, CEO – Two-Line Studio
Andy Wilson, President – ELEVATE Entertainment & Event Support Services
Daniel Yaffe, Co-Founder and COO – AnyRoad
Schedule
Wednesday, October 6
10:00am: Welcome Keynote
10:15am: Conference Begins
2:15pm: Virtual Networking Begins
3:15 pm: Conference Ends
Thursday, October 7
10:00am: Welcome Keynote
10:15am: Conference Begins
2:00pm: Virtual Networking Begins
3:00 pm: Conference Ends
—Press Release