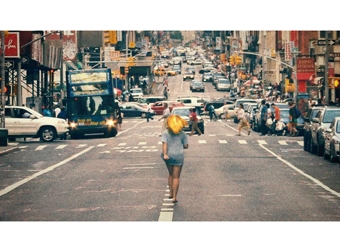 New York City artist Ryan McGinley shares a moment of tranquility with New Yorkers and visitors amidst the bustling streets of Times Square with his new video Varúð as part of the "Midnight Moment," a synchronized program on over fifteen of the largest digital signs in Times Square. McGinley's work will premiere just before midnight on July 1st and play every night throughout July from 11:57 p.m. – midnight. The "Midnight Moment" is a presentation of the Times Square Advertising Coalition (TSAC) and Times Square Arts. This month's program is presented in partnership with Art Production Fund.
The peaceful video documents the artist's friend Jessica Tang as she blissfully skips through the streets of Manhattan in slow motion, leaving a trail of stardust in her wake. McGinley captures a free-spirited and barefoot Tang, unaffected by her surroundings as she passes through the hectic city streets.
McGinley said, "I wanted to bring a childhood innocence to the streets, through a character whose own light and wonder affect the world around her. I'm always interested in an atmosphere where dreams and reality mingle on equal terms."
Alan High, Chairman of the Times Square Advertising Coalition and President & General Manager of Clear Channel Outdoor Spectacolor & Mall Divisions, said: "We're thrilled to bring Ryan McGinley's moment of tranquility to the video screens of Times Square. New Yorkers and visitors will surely pause from their busy evening schedule to embrace these three minutes of calm captured by McGinley."
"We are so pleased to be collaborating with the Times Square Alliance in bringing Ryan McGinley's ephemeral film to the heart of Times Square," said Art Production Fund Co-Founders Doreen Remen and Yvonne Force Villareal. "Ryan's work connects us to our inner youth and evokes a freedom of spirit that offers an enlightening break to the midtown bustle."
Sherry Dobbin, Public Art Director of the Times Square Alliance, said, "Ryan McGinley is a young contemporary artist whose work resonates with people world-wide. His film-with the carefree girl running around Manhattan trailing pixie dust-is the perfect anecdote to a hot-and usually steamy-July in Times Square."
Midnight Moment is the largest coordinated effort in history by the sign operators in Times Square to display synchronized, cutting-edge creative content on electronic billboards and newspaper kiosks throughout Times Square every night. The program premiered in May 2012 and is organized and supported by the Times Square Advertising Coalition in partnership with Times Square Arts, the public art program for the Times Square Alliance, with additional partners of participating sign holders and artists.
Each night, Times Square becomes a digital art gallery through dazzling visuals on select billboards and newsstands. Every show begins at 11:57 p.m. with a "countdown" that signals the start of the three minute nightly presentation. Past artists featured in the program include Robert Wilson; Tracey Emin; Seoungho Cho; Vicki DaSilva, Surabhi Saraf, and Elly Cho; Erika Janunger; Takeshi Murata; Bel Borba with Burt Sun and André Costantini; Brian Gonzalez (aka Taxiplasm); Björk; JR; and Yoko Ono. For more information on past projects, please visit www.TimesSquareNYC.org/MidnightMoment.
The following digital screens are participating in the July Midnight Moment: ABC Super Sign, American Eagle Times Square, Bank of America, CEMUSA, City Outdoor, Disney, JVC Screen, NASDAQ, Spectacolor HD129/Times Square Museum & Visitor Center Marquee, ClearChannel HD128, Spectacolor HD127/CNN Screen, Times Square Museum & Visitor Center, Viacom North & South (SL Green Realty) Thomson Reuters, and 7TS (7 Times Square).
Content changes monthly; selected works are announced in the weeks preceding the start of a new show as are the exact signs participating in that month's selection.