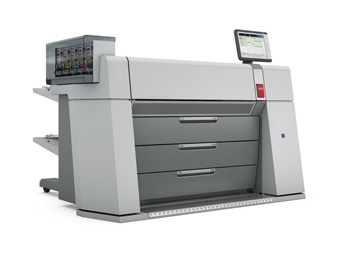 Two Océ-branded wide format printers from Canon U.S.A., Inc., a leader in digital imaging solutions, were recently named 2013 MUST SEE 'EMS for the upcoming PRINT® 13 show. The Océ Arizona® 660 XT UV flatbed printer and the Océ ColorWave® 900 printer were recognized in the Wide-Format category as compelling production introductions. Both will make their North America debut in the Canon booth #502 at the PRINT 13 show in Chicago, September 8-12, 2013.
"We are honored that two of our products were recognized this year and look forward to introducing them to the North American printing market," said Junichi Yoshitake, senior vice president, Business Imaging Solutions Group, Canon U.S.A. "Both printers include innovative technologies that were driven by customer and market needs, affirming our aim of providing solutions that are specifically designed to enhance the revenue and profit opportunities for service providers."
According to the MUST SEE 'EMS Web site, www.mustseeems.com the program "provides an industry-wide 'roadmap' to the most compelling product introductions on the PRINT 13 show floor. These awards provide valuable guidance to PRINT 13 attendees who are considering the purchase of new equipment or software."
About the Océ Arizona 660 XT printer
The Océ Arizona 660 XT UV flatbed printer is the latest high-capacity model in the award-winning Océ Arizona Series. It is designed to deliver high total and peak production capacity of up to 696 square feet per hour while maintaining the uncompromising print quality favored by Océ Arizona Series customers.
Featuring six independent ink channels, this printer can be configured for maximum productivity or optimized for maximum versatility with double-opacity White, White Ink and Varnish or extra Cyan and Magenta (CM2) resulting in even greater image quality at production speeds.
It's oversized, true-flatbed table accommodates rigid media up to 98.4 by 120 inches, and up to two inches thick; its seven independent vacuum zones can be configured to match the majority of standard-sized graphics arts media to help reduce or even eliminate manual masking, thereby decreasing operator intervention and increasing productivity. It includes features to help provide optimum image sharpness, density and uniformity over the entire print area.
If a job can be printed digitally, it likely can be produced on an Océ Arizona 660 XT printer. With the ability to print on a wide variety of media and objects, print service providers can capture revenue from applications ranging from standard sign and display (point-of-purchase displays, retail signage, backlit signs) to specialty and industrial applications where the decorated substrate is not meant primarily for display purposes (e.g. package prototyping, short-run packaging, wallpaper and interior decoration, and consumer product decoration).
With one Océ Arizona printer, full mixed-media campaigns can be produced including rigid displays, banners, window cling, backlits, etc., to service a range of customer needs to help maximum revenue.
About the Océ ColorWave 900 printer
With print speeds of 12 inches per second and productivity of more than 800 B2 or 500 B1 sheets per hour, the Océ ColorWave 900 printer (pictured) closes the gap between digital inkjet and traditional offset technology. Designed for the GA (Graphic Arts), AEC (Architecture, Engineering, and Construction), and GIS (Geographic Information Systems) markets, this printer offers a digital workflow that can help increase productivity, lower running costs, and increase flexibility for variable data and short- to medium-run length print jobs.
With a maximum media width of 42 inches, the Océ ColorWave 900 printer incorporates proven six media roll capacity for a total input capacity of 13,650 square feet (up to 650 feet per roll). The output is cut and delivered—dry and ready to use—into a high-capacity stacker, which features dual delivery trays for concurrent printing and unloading to further maximize uptime and increase productivity.
The Océ ColorWave 900 printer is ideal for a vast range of applications including point-of-sale (POS) posters, exhibition and tradeshow materials, counter and floor displays, and technical drawings and maps. It is an attractive proposition for wide format print service providers looking to increase print production capacity, and for commercial printers looking for a powerful—yet economical—way to explore new revenue channels.
For more information about the Océ Arizona 660 XT UV flatbed printer and Océ ColorWave 900 printer, call 800/815-4000.