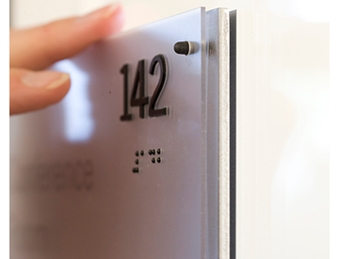 Century Sign Builders has announced that their money- and time-saving invention has been granted a US Patent. Century Sign Builders is a sign design and manufacturer with offices in Albuquerque and Phoenix. The Snap-N-Place fixture was designed by a team at Century Sign Builders and allows the end-user to easily update the information on their signs without filling the landfills and all the time and paperwork needed to update just one sign or nameplate. No need for a complete new sign, therefore lowering the carbon footprint on many levels and aiding to create a "green" sign.
The Snap-N-Place fixture is available on many of Century Sign Builders' standard product lines: Alloy, Basic, Basic Plus, Texture, and some custom interior signage applications.
This simple, effective fixture makes updating room uses and/or occupant names a "snap." It is so easy that Century Sign Builders' clients will be able to save money and time by not purchasing a new sign every time their companies and/or building experience a change.
"Companies are taking notice and see the huge amount of time that this simple fixture can save their company. We are happy to bring a product to our clients that is not only good for their bottom line but for the environment as well," says Roxanna Meyers, president of Century Sign Builders. "It has taken year's of hard work to get this patent approved and I am proud of the efforts of my staff."