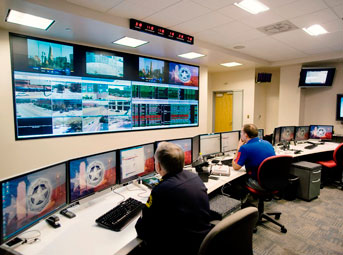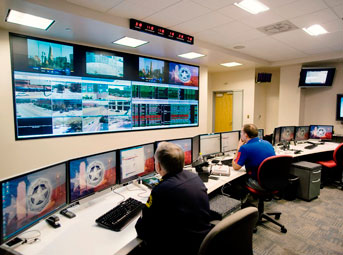 Christie®
has helped equip the Dallas Police Department with the latest technology. The Department recently upgraded its training and special event operations room into a new state-of-the-art 24/7 Fusion Center with funding from Homeland Security. Equipped with new consoles, a SMART Board®, intelligent switching capability, and visualizing data from more than 25 sources, the Dallas Police Department, through AV solutions provider, Whitlock, turned to Christie for its visual technology.
"We recommended Christie MicroTiles for their exceptional image quality in brightness, contrast and color reproduction," said Scott Creevy, senior account executive with Whitlock. "The MicroTiles also offer a low cost of operation and a long track record of reliability, which made them the perfect choice for the Fusion Center."
Christie provided a six units high-by-12 units wide digital video wall to the Dallas Police Department. The 72-unit Christie® MicroTiles® display enables the Fusion Center to monitor almost 100 cameras all around the city and maintain its 24-hour operation.
Christie MicroTiles have built-in sensors monitoring each LED's performance and automatically adjusting brightness and color
continuously for the life of the display. Built with reliable solid-state components, including LEDs rated at 65,000 hours to half brightness, no lamps or consumables need to be replaced for more than seven years. With no practical limit to the number of tiles in a display, Christie MicroTiles produce a virtually seamless canvas with an unlimited number of super-fine pixels.
"Today's control rooms go beyond traditional displaying and monitoring. Integrated technology allows information to be shared anywhere; quickly, accurately, and effortlessly," said John Stark, senior director, Collaborative Visual Solutions at Christie. "The Dallas Police Department had the foresight to see the benefit of using Christie MicroTiles as the visual element of their newly integrated environment, advancing the efficiency and accuracy of their intelligence operations."