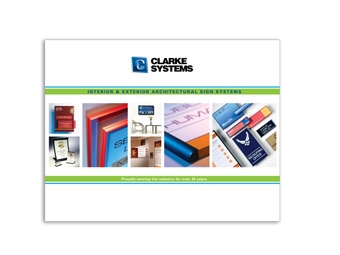 Clarke Systems has released its newest literature to the sign trade, including two new products being introduced this year. Focusing on the importance to the end-user of changeability and adaptability, the brochure offers the trade a full menu of extruded aluminum component systems, graphic insert options in aluminum and acrylic, and digital signage software.
New this year is SpringFrame™, extruded aluminum, changeable-graphic signage featuring a patented spring mechanism and a discreet locking function that allows for easy changes while thwarting vandalism in high traffic areas.
Also new is Magneview™, which pairs a Lexan face with a magnetized lens that lifts to enable frequent changes in an active communication environment such as a hospital or conference center.
The twenty-four-page brochure features interior and exterior, extruded aluminum, architectural identity, and wayfinding sign systems—including Clarke's proprietary Slatz® (interior) and Info Panel™ (exterior), as well as Slatz Catpture® a flat profile insert system and Rainbow Plus™, a curved profile system.
Also showcased are acrylic window and magnetized ADA signs, as well as modular e® digital signage software.
Clarke Systems has built its sign business on offering a variety of flexible signage solutions that provide sign trade professionals with the tools they need to meet the demands of a changing marketplace. Products are available in cut to size components, ready-to-assemble and/or decorate kits or completely manufactured, ready-to-install sign programs.
For copies of the brochure, call Customer Service at 800/331-1891 or email [email protected].