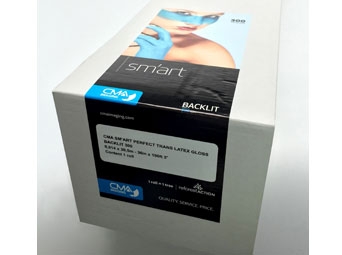 Already proven as an environmentally friendly alternative to RA4 silver halide display film, CMA Imaging's Perfect Trans wide-format fully recyclable material is making its North American début at Graph Expo 2015. The media is being displayed on Legion Paper's booth, 3002H, where visitors can discuss its full compatibility with HP Latex Printing Technology and view its exceptional properties as a recyclable, green option for applications where, traditionally, Duratrans would have been required.
CMA Perfect Trans provides exceptional colour depth with excellent saturation, and consistently even lighting edge-to-edge to carry the illusion of depth. In common with Duratrans, but with the benefit of no chemistry nor darkroom processing conditions, the media incorporates accurate and balanced levels of translucence, adding powerful dimensional effects to applications where vibrance and lighting are essential in playing a strong role within the overall effect of a finished job.
The result of five years of development by CMA Imaging, CMA Perfect Trans is tailored for today's greener environments now being demanded by print service providers, display producers, brand owners and the retail sector. The media offers superior performance characteristics and can be printed on an HP Latex platform to provide a truly eco-aware solution which meets the needs of all businesses wanting to lower their environmental impact.
"The key to CMA Perfect Trans is its ability to combine strong colour depth and back lighting effects and successfully emulate the effect of Duratrans. As such the product is based on the principles needed in greener working practices without compromising quality," explains Mark Sanderson, Managing Director of CMA Imaging. "Not only does Prefect Trans remove the need for silver halide processing, it is extremely cost-effective and generates vivid results that don't need over-laminating in order to achieve a glossy finish."
CMA Perfect Trans is now available on the North American market with specialist distributor, Legion Paper, displaying the media on its booth at Graph Expo. The company, a family owned business, concentrates on fine art and high quality papers, working with mills in more than 16 countries where it develops and distributes a broad portfolio of stock and bespoke products.
CMA Perfect Trans is part of a growing portfolio of solutions available to the digital print market from CMA Imaging. Products include CMA Backlit and CMA Canvas, along with ColorCloud colour management and an ink savings solution that offer consistency in quality and standardisation across all output devices.