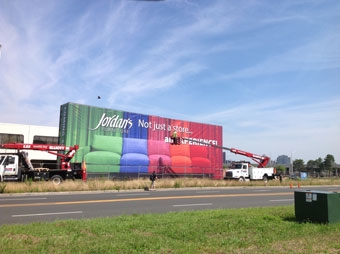 When Jordan's Furniture in New Haven, Connecticut was remodeling a building located on a quarter-mile stretch of road very close to the busy I-95 and I-91 interchange, they decided this would be an opportune spot for a "Coming Soon" sign.
So they leased six 8-1/2-foot-tall-by-40-foot-wide shipping containers for six months and stacked them two-wide-by-three-high level on a pad. They branded them with full-color graphics and backgrounds that would enhance the "coming soon" announcement. The furniture store hired Merritt Graphics Big Color of East Hartford, Connecticut to produce and install this bold, vibrant mesh vinyl vision.
Merritt Graphics is a diversified grand format/wide format graphics solution provider that has been around since 1908. They've always been at the forefront of graphics, even serving as an early adopter of large format printing back in the 1980s.
The company was already experienced working with mesh wraps. In addition to multi-story buildings and baseball stadiums, they supplied a mesh graphic to the scaffolding used to renovate the U.S. Supreme Court building a couple of years ago. They also provided the giant mesh graphic on the side of the Ed Sullivan Theater in New York City that David Letterman would drop to unveil the image of that year's Sports Illustrated swimsuit model.
But this was the first time they'd ever attempted to install mesh graphics on a shipping container.
"They already own the property there, so spotting those containers was probably a cost-effective situation for them," says Pat Freer, vice president of Merritt Graphics Big Color Division, "probably even less than a billboard."
Merritt Graphics printed the graphics on six panels of Ultraflex mesh vinyl using their Matan 4Q grand format printer and UV inks. The finished graphic measures about 30 feet high-by-96 feet wide.
Merritt Graphics had to make sure the mesh fabric could handle high wind loads and that it looked flat and non-wavy. In addition, the owner of the six containers didn't want thousands of grommet holes penetrating them.
On the site survey, Freer noticed the containers had great anchor points for fastening. So Merritt Graphics installers affixed the mesh vinyl panels to the containers with strategically placed anchor hardware and a cabling system that stretched across the top left to right and across the bottom left to right and the return edges. "We added in a pole pocket-type steel pipe to bolt the return edges and then ratchet-strapped those sides through strategically placed clips," says Freer, "so that stretched it left to right."
This colorful solution is scheduled to be in place through the holiday season. But for Jordan's Furniture and Merritt Graphics, finishing this job seamlessly made for an early present.
By Jeff Wooten
Photo: Merritt Graphics Big Color.