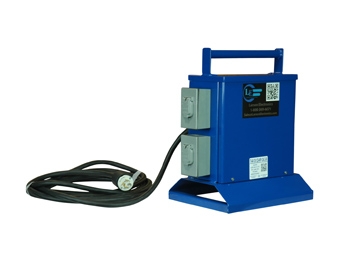 The TX-40-120-1224-WP portable power transformer from Larson Electronics is built to provide operators with a reliable source of low voltage 12- or 24-volt power in AC or DC forms. This compact power distribution transformer is designed for portability and convenience as well as durability and includes an elevated base platform for protection from standing water and weather proof construction. With overload and short circuit protection, this unit safely allows operators to power equipment up to 500 watts from a standard 120V or 240V AC power source.
This portable low voltage transformer features four L5-20 twist lock receptacles that provide sealed and secure connections. To connect devices, the operator must insert the plug and twist it until it locks into place in order to energize the plug. This design provides a secure and safe connection that prevents arcing and accidental plug pullouts. Larson Electronics can build transformers to customer specifications. If this model does not meet your requirements, please contact the company to discuss details.
"This power distribution system is built with a carrying handle that can easily be used as a cord wrap for storing and transporting," said Rob Bresnahan with LarsonElectronics.com. "This unit features short circuit and over load protection. In the instance of circuit overload, the unit automatically shuts down to protect the transformer from damage."
Larson Electronics carries an extensive line of LED light towers, portable power distribution systems, explosion proof lights for hazardous locations, portable work lights and industrial grade area lights. You can view Larson Electronics' entire line of lighting by visiting www.larsonelectronics.com.