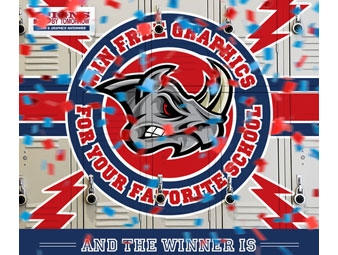 Signs By Tomorrow is pleased to announce that the University of St. Francis in Joliet, Illinois is the deserving winner of the Imagine It…We Can Wrap It! School Edition Facebook contest! Go to the head of the class, Fighting Saints!
The University of St. Francis' sports program may earn an A+, but according to their Facebook contest entry, the drab hallway leading to the men's and women's locker rooms currently gets a failing grade. According to USF, their uneventful walls pale—literally!—in comparison to athletic facilities at other schools.
That's why they asked Signs By Tomorrow to splash some team pride on their hallways to impress new recruits, encouraging these visiting athletes to become Fighting Saints for the next four years!
Signs By Tomorrow is already busy at work on the University's custom wrap to make sure it's ready for its big reveal in time before the sports season ramps up.
Be sure to check out the SBT Facebook page for the latest updates as they make over the University of St. Francis' athletic department hallway.
The contest was also sponsored by UASG, and 3M.