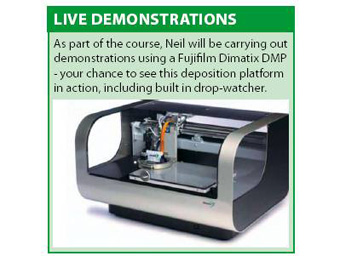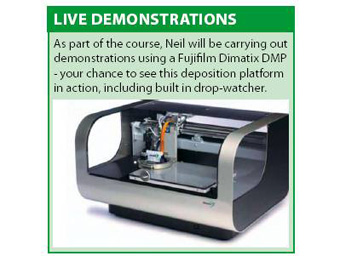 For the first time in the United States, Information Management Institute offers its course, Ink Jet Deposition Course – Functional Material Deposition by Ink Jet on January 28-29, 2013 at the Scottsdale Cottonwoods Resort & Suites in Scottsdale (Phoenix), Arizona. Complete program information and online registration is available at www.imiconf.com.
According to IMI President Al Keene, "There is no doubt that digital deposition of functional materials, or more accurately functional fluids, using ink jet printheads is an extremely attractive proposition. Being able to place a tiny and highly controlled amount of fluid to a few microns of placement accuracy has the potential to drastically transform conventional manufacturing processes."
Keene continues, "Whether the functional fluids have electronic, pharmaceutical or other important attributes, the challenges of getting them to 'jet' with suitable performance and to 'functionalize' on the target substrate are often common headaches for the materials deposition community.
IMI's Ink Jet Deposition Course – Functional Material Deposition by Ink Jet will focus on the practicalities of ink jet printing of what may be called "challenging fluids." The course will consider in detail the basic building blocks of a material deposition ink jet system: printheads, ink/fluid, motion system, substrate, and the methods available to make the working printed structures. In addition, it will provide a background on how one can "fine tune" fluids and their jetting waveforms to improve performance.
IMI's Ink Jet Deposition Course – Functional Material Deposition by Ink Jet will provide a sometimes salutary background on the conventional manufacturing capabilities that must be matched for material deposition by ink jet to move into large scale production environments.
Course Leader Dr. Neil Chilton, Technical Director, Printed Electronics Limited, Tamworth, UK has more than twenty years' experience in the field of electronics and electronic components. After completing his BSc and PhD in Physics, his technical career took him to Japan where he worked for four years at the Advanced Materials Research Division of Nippon Steel Corporation. After returning to the UK, Dr. Chilton joined Europe's then largest printed circuit board manufacturing company where he was later part of an MBO team and Technical Director.
In 2006 together with Dr. Steve Jones, Dr. Chilton started Printed Electronics Limited to focus on the practical use of ink jet technology for manufacturing electronic interconnects, devices and systems.
During the course, Dr. Chilton will utilize a Fujifilm Dimatix DMP unit to conduct live demonstrations of functional materials deposition principles and procedures.
Major course sessions will include:
+ Printheads
+ Inks/Fluids
+ Ink Jet Platform
+ Substrate
+ Functionalizing
+ Image Fundamentals
+ Ink/Fluid Delivery & Management System
+ Practical Applications & Case Studies
+ Moving Functional Printing to Industrial Scale
+ Overview of Material Deposition & Printed Electronics Using Ink Jet: (Things that can—and maybe cannot—be done).
For more information, visit www.imiconf.com.