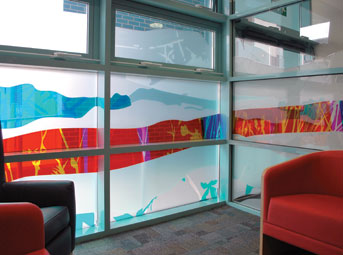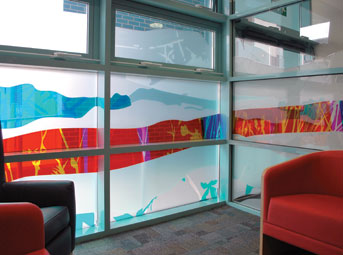 MACtac® Graphic Products introduces its newest adhesive-backed vinyl for illuminated signs and window décor with MACmark® 8400. Designed for creating unique decorative and functional applications, MACmark 8400 is ideal for a variety of applications used by interior designers, architects, photo labs, sign shops and exhibitors.
A transparent vinyl film, MACmark 8400 is designed for use in translucent illuminated signs and window decoration. Answering customers' demands for the latest trends in interior design, MACmark 8400 can be used to create vibrant signs and décor for offices, day care centers, schools and more. MACmark 8400 is available in 16 transparent, bright-gloss colors which can be further combined to create nearly any color imaginable.
MACmark 8400 is a glossy transparent film with up to three years of outdoor durability. This 3-mil cadmium-free vinyl is coated with a durable, permanent acrylic, pressure-sensitive adhesive with excellent wet-out characteristics for clarity. An 83# white kraft liner, MACmark 8400 offers excellent stability and layflat. And, MACmark 8400 offers good dimensional stability and is designed for excellent cutting and weeding.
"Creating windows and illuminated signs that offer visual impact is very important to our customers," said Cathy Kimpton, marketing manager, MACtac Graphic Products.