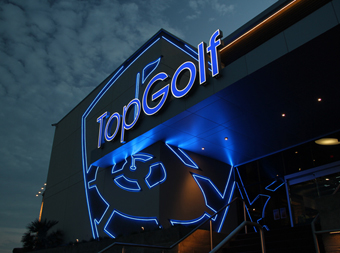 Just off a major interstate running through Houston, TopGolf is a structure that's impossible to miss. The 65,000-square foot venue is not only sprawling, its sleek profile suggests something extraordinary.
Inside, a three-level golf driving range plus dining, live music, a rooftop bar and more deliver on that promise. Meanwhile outside, the entrance makes guests feel like VIPs, thanks to a sign that glows with iLight Plexineon Blue Series fixtures.
The Design Challenge
The first TopGolf to open in Houston, the new entertainment complex is the Dallas-based company's largest in the country.
Designed by Aria Group Architects, Inc., the modern design is unexpected, reflecting the unique concept behind TopGolf. To catch the attention of passers-by on the interstate, plans called for creating a bright sign that would serve as a shield on the building. The design team wanted an energy-efficient solution and, since it would be displayed within arm's reach of arriving patrons, one that wouldn't pose a safety hazard.
Plexineon not only met those requirements, but also created a sign that could be custom-bent to create endless possibilities.
"When we realized it could be shaped any way we wanted, we decided to do an overscale TopGolf logo and use blue—their primary branding color," says Nicole Poole, project architectural designer at Aria Group.
The Plexineon Advantage
The key was for iLight to create precise factory bends that would ensure a true representation of the TopGolf logo.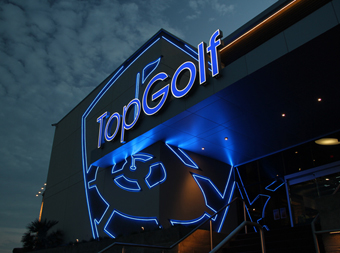 Lisa Maceda, designer at Aria Group, says, "It could not have worked out better. iLight custom-bent the Plexineon perfectly. It was easy to install from start to finish."
The result is a striking, yet sophisticated, sign. "It definitely is an eye-catcher," Maceda says. "We'd seen samples, but it was still surprising how really bright the Plexineon was. It has a great glow to it—very even, not overpowering."
Poole agrees. "It was stunning when we first saw it—really amazing. The Plexineon added that extra element we needed.
Noting that the new site's VIP opening was TopGolf's most successful yet, she says Plexineon was the perfect compliment to the red carpet experience: "It just added to the excitement."