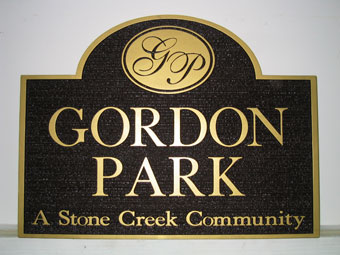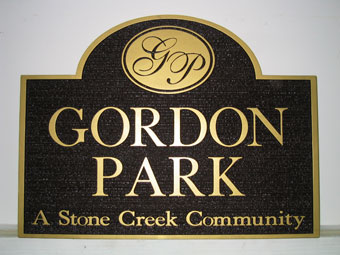 There are various types of sign blanks and panels available for your signage needs (aluminum, aluminum composite, high-density urethane, PVC, wood, etc.), but when it comes time to convert these plain substrates into dazzling signs, there's no substitute for experience.
hether you're new to the craft or a veteran working with unfamiliar materials, your manufacturers and suppliers are eager to advise you on the best density, tools, and techniques for cutting and carving their products.
Taking advantage of the Internet, many of these companies now publish guides or post "how-to" videos on their Web sites to walk users through proper handling and fabrication of sign blanks. And for those not equipped to shape their sign boards, several will cut and carve blanks to your specs.
"Since there are so many substrates available today, the best way to begin is by talking to the salesperson at your distributor or supplier," advises Gene Sobel, president of Sign-Mart, a distributor based in Orange, California. "The right board depends on the job, where it will be hung, and what kind of conditions it will be exposed to.
"Explain what you want to do, and they will advise what you need. They will also suggest the right way to work with that material."
If there is general advice, it's to use a power saw outfitted with a carbide-tipped blade or a circular saw for straight cuts and a jig or saber saw for curves. More ambitious effects require a cutting or routing machine. Those sign makers without CNC equipment on hand can turn to a wholesale CNC machining center.
Working with Wood
Wood remains a perennial favorite for distinctive-looking signs. Canadian supplier Allwood Sign Blanks has established itself as a source of Western red cedar sign blanks. President Bob Askew says the material has been well received as an abundantly available alternative to the redwood panels that were once so common.
"The two woods are very similar. Their density is about the same, and both have a high resin count," says Askew. "Because Western red cedar is short-gained, it's unlikely it will check. And when exposed to UV, it turns a silver-grey—a look that many people like in their signs."
As a softwood, Askew says that standard woodworking equipment can be used for cutting and carving.
"[Western red cedar] is not hard on the equipment, and it saws and routes just like any other softwood," says Askew. "There's a fair amount being done with it using CNC routers and standard carbide bits."
Western red cedar can also be sandblasted for striking 3-D effects. On its Web site, the company provides basic tips on sandblasting provided by working partner, Island Quick Strips of Victoria, BC. It advises working with a small sample and mastering the technique before attempting to blast the sign panel.
Other sandblasting cedar tips:
Setting the sand blaster to 80-psi;
Holding the nozzle twelve inches off the surface; and
Making a sweeping motion for a cut no more than 1/4- to 3/8-inch deep.
"Big shops have their own equipment and the people who know how to do the sandblasting," notes Askew. "For a smaller shop, the biggest stumbling block can be finding someone specialized in that area to do the sandblasting for you."
Wood Alternatives
In recent years, high-density urethane (HDU) has become increasingly popular as an alternative to wood for many elaborate dimensional sign designs. "Wood is what many people in the sign industry have grown up with, and everyone looks at HDU as a wood-like material," notes Chuck Miller, president of Coastal Enterprises, manufacturer of Precision Board HDU panels, boards, and companion products.
"HDU is faster to cut and sandblast," says Miller. "When you're finished, you get a sign that can look like wood or any other desired texture. However HDU is easier and less costly to install, since it's lighter than wood."
For carving and machining HDU, it's important to remember that it can be cut with any tool or blade that will cut wood. If the tool can't cut wood, it won't cut HDU. "Don't try to cut HDU with a hot wire," warns Miller.
According to Miller, where HDU differs from wood is when it comes to priming and painting. He explains that the difference is in the inherent closed cell structure of HDU. "Urethane doesn't absorb anything, so the primer must dry from the outside-in with no absorption from the substrate," he says. "You should always use a primer specifically designed for HDU and then be sure to dry it completely before painting. That's the key.
"Once the special-designed, water-borne primer has been properly applied to the piece, dried, and sanded, then painting HDU will be just like working with any other substrate surface." (Note: To watch an instructive video on how to prep and prime HDU, visit www.precisionboard.com/technical/training-video.)
How-to Handbooks
While videos are becoming more prevalent, printed guides to fabricating are also available from several suppliers for download and printing through their Web sites.
For example, Laminators Inc., offers a detailed "Resource Guide" to educate buyers on its composite sign boards. It explains the company's products and applications and offers detailed tips on working with them.
"We want our customers to understand the value of our products and the proper use of them," says National Sales Manager Mike Leneski. "The sign industry is made up of many highly skilled craftspeople, and we draw on their expertise to make sure our customers understand how to use and properly work with our materials."
This "Resource Guide" is a thorough handbook, complete with detailed instructions and illustrations on every step from cutting to carving to prepping each board for installation:
For straight cuts, the guide recommends a circular saw with a carbide-tip blade width from 36 to 52 teeth.
For its Omega EP PVC panels, it specifies a triple-chip saw blade designed for cutting plastics.
For freestyle cuts, the guide specifies a jig saw or saber saw equipped with a metal type carbine blade with a comparable range of teeth and advises how to properly angle the blade during the cut.
Once cuts are complete, the guide walks readers through deburring edges on aluminum boards, the proper grit sandpaper to use, and how to correctly drill and caulk holes for mounting and applying the company's Edge Caps to maximize the life of the board.
"We come from the sign industry ourselves," notes Leneski, "so we try to look at everything from the practical standpoint of the person creating signs with our products and provide what's important to you, in the field."
Meanwhile GRAPHIC-AL™ offers videos and a terse but thorough fabrication guide for working with its aluminum composite OR, DP, LT, and HP blanks. According to it, all of these materials can be cut with standard woodworking saws outfitted with carbide-tipped blades made for cutting aluminum or plastic.
For contour cuts, recommendations include a fret saw, a hand router, a hand jig saw, or a CNC router with 1/8- to 1/16-inch straight bits.
The guide also provides comparable advice on folding, curving, and joining its blanks, as well as which adhesives and sealants work best with GRAPHIC-AL panels.
By Mike Antoniak
Photos (in order) courtesy of: Coastal Enterprises, Allwood Sign Blanks, Piccadilly Signs, Laminators Inc.