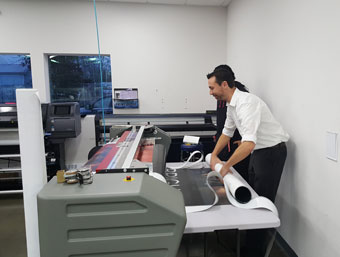 PIP Printing of Alaska in Anchorage has been in business since it opened its doors over thirty-five years ago. The company specializes in large format printing while also offering marketing services.
A few years ago, the company invested in a number of new pieces of equipment.
"We were opening up a new facility," explains Dana Profeta, digital operations manager of PIP Printing of Alaska, "and we were making new investments in equipment really across the board as far as signage went."
One of the new additions was an HP Scitex FB700 Industrial Printer.
The shop knew it would have a lot more rigid substrates to cut, so it began looking for a new cutter to handle the increased output.
Cutter Considerations
PIP Printing came across Colex's Sharpcut Flatbed Cutter at a past ISA Sign Expo.
With a five-by-ten-foot bed and the ability to cut substrates they commonly worked with (such as foam-core and Sintra®), the company was sold.
Prior to purchasing the Colex® cutter, PIP used straight edges and knives to make straight cuts in rigid media. They outsourced any custom and contour-cut work on rigid substrates, while using a kiss cutter for cuts in vinyl.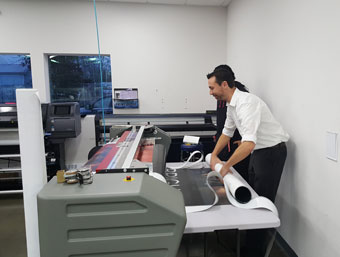 The new machine allowed them to bring the custom work on rigid substrates in-house, but the shop was still unsure of whether or not the machine would pay off.
"It was a little bit of a leap for us because we weren't requesting that outsourcing enough, in my mind, to justify buying this piece of equipment," says Profeta. "But as soon as we got it on our floor, all the cutting [jobs] started to come out of the woodwork."
Going 3D
The cutter also allows for 3D work, which PIP has gotten into recently.
Profeta has created a number of samples to get comfortable with 3D work on the machine, including address letters and people's names on different textures. He's even cut out plywood to make a chair prototype (pictured, right).
"We've done a handful of runs with HDU board and routing 3D stuff," he says, "so we feel pretty comfortable with it."
One of the biggest challenges of learning to use the machine for 3D work was changing out tools between passes.
"It's a little bit tricky in that there's not an automatic tool changer on it," says Profeta, "so you rough-cut, then you change the tool out making sure not to move the board, put in your bit for the finish cut, and then start that new file.
"And it will go right over what it already did for the rough cut."
At first, Profeta found himself nervous that he was finishing a cut, changing out a bit, and starting a new file hoping that it would match up with the first one that he did. "But there were no problems," he says.
After a handful of runs and samples, Profeta felt comfortable enough to do a large, full-scale sign. He started work on a four-by-six-foot identity sign made from fifteen-pound Precision Board® HDU for outside his sign shop.
Profeta began the design by importing the shop's logo into EnRoute software from SAi.
"I created different levels with it to turn it into something 3D rather than 2D," he explains.
When the file was ready, Profeta began the rough cut of the HDU using his Colex machine, which took about an hour.
He then changed out the tool to an 1/8-inch ball nose end mill to do the finish work and let the machine run overnight.
"It's kind of nice that you can be making signs and making money while there's nobody here," says Profeta. "Then come in in the morning, and it's done."
From there, the sign was primed and painted with household latex exterior paint, which was enough to protect it from the outdoors. The paint was applied with brushes.
"Everything's with brushes if I can help it here," says Profeta. "There's other production equipment nearby, so it concerns me to be spraying."
PIP also fabricated a basic, rectangular steel and wood framework for the sign to hang on. This structure was anchored into the ground, and the sign was hung on it using a cleat.
So What's Next?
The shop recently purchased a Fotoba XLD 170 Digital Print Cutter for flexible media.
The shop had been using its Sharpcut for flexible media up to ten feet in length, but this new machine enables them to do longer runs—a 150-foot roll in under ten minutes—more efficiently and accurately.
"So now if we have a long run, we can load this roll up on there and allow it to cut," says Profeta. "It's going to enable us to be more efficient with cutting banners and posters, wall panels, any murals that we're doing on walls. I think it's going to be a lot more accurate."
Profeta says the addition of new equipment has helped in PIP's progression as a business.
"This has just been an evolution," says Profeta. "We started with the plotter just doing some posters initially and then evolved into latex printing, getting a flatbed printer, and a flatbed cutter.
"Every step along the way has just made us more efficient and brought about other, new possibilities for us in this industry. And it's been pretty exciting."
By Ashley Bray
Photos (top to bottom): PIP Printing, Colex Imaging, PIP Printing, PIP Printing.