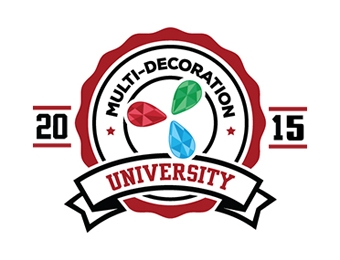 Every Tuesday and Thursday during April and May, Digital Art Solutions will be hosting its Multi-decoration University and Smart Designer University online training courses. Both of these courses are on-going sessions on a variety of topics including CorelDRAW and apparel decoration.
You don't have to attend the live event as they are recorded. As long as you register once for each course, you will be notified of upcoming sessions and provided links to the recording. The company now has over fifty hours of recorded classes available on its Webcasts page.
Multi-decoration University
If you are new to rhinestone multi-decoration, migrating from a hobby to business, or already engaged in rhinestone multi-decoration, Multi-decoration University is for you. This is a comprehensive training course on creating multi-decoration rhinestone apparel and rhinestone decals.
The course is open to anyone regardless of what software you own. It will feature CorelDRAW and Digital Art Solutions' industry-leading StoneCut Pro multi-decoration software.
There are eight classes in this course, and these classes start April 7.
Register for Multi-decoration University
Smart Designer University
It doesn't matter if you are a graphics master or entirely new to CorelDRAW, this course is for you. Digital Art Solutions will cover the basics of getting involved in graphics production and work through a progression of lessons to provide an essential skill in CorelDRAW and Smart Designer Pro.
You do not have to own Smart Designer to attend, although you will be exposed to this amazing tool.
There are eight classes in this course, and classes start April 9.
Register for Smart Designer University