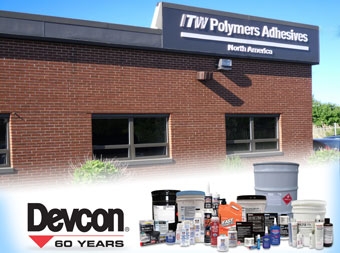 Devcon® brand, a product line of ITW Polymers Adhesives North America, will celebrate its 60th anniversary in September with a series of events, including a luncheon with remarks by corporate officers and a Red Sox game for employees.
Founded by Al Creighton in 1954, Devcon began production in an 1800-square-foot cinder block building in Danvers, Massachusetts — on the same site where the company's 120,000-square-foot facility now stands. The company's first product — a two-part, steel-filled epoxy compound named PlasticSteel® — was the result of Creighton's efforts to develop an economical, nonflammable alternative to welding. Today, Devcon is one of a host of brands within the ITW Polymers Adhesives North America division of Illinois Tool Works (ITW), a $14 billion Fortune 200 multinational manufacturing corporation.
Originally focused on metal repair and rubber repair, the Devcon product line has grown to include high-strength epoxies, methacrylates, and anaerobics. Today, Devcon epoxy compounds, coatings, and urethanes are used to repair and protect surfaces subject to abrasion, corrosion, and wear in mining, coal-fired power plant, aggregate, and general industrial applications.
In 2013, Devcon, Plexus, and Spraycore merged to form ITW Polymers Adhesives North America. Notes Chris Stevens, the company's Vice President and General Manager, "The range of products, the level of technical expertise, and the amount of application experience now available within this one division is impressive. Our goal is to honor the past 60 years by focusing our resources on solving customer problems today and in the future."