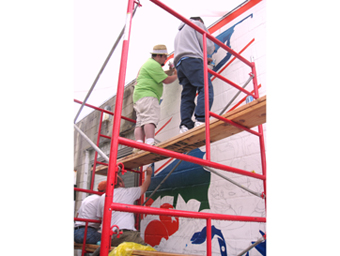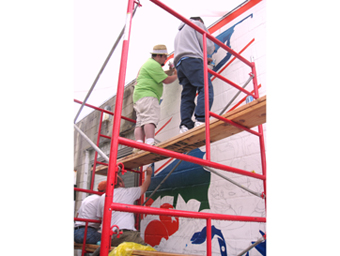 Diaz Sign Art of Pontiac, Illinois is a family-owned and family-run shop that started up back in 1979. Designer Joe Diaz (pictured, top left) and his brother Ben currently work at the shop with their parents Bill and Jane Diaz. When Joe and Ben were kids, they would sweep the floors while their father taught them about sign-making and their mother about art (since she was also an artist and a K-12 art teacher).
Today the business works with logos, branding, vinyl, and printwear. Another thing they're really good at is hand-painting murals.
In addition to commissioned mural work, Diaz Sign Art is an active participant in the Walldog movement. The Walldogs began in 1993 (with a meet hosted by Nancy Bennett) and is a group of sign and mural artists across the globe who preserve the tradition of painted wall advertisements. Their events are held across the country and involve three to four days of mural painting on walls and buildings. There can be as many as hundreds of painters involved.
Diaz Sign Art participated in the "Pop the Top" Walldogs Project this past June in Arcola, Illinois. At other events, they've crafted retro-style murals for Hi-Ho soda and Star Fireworks. The Diazes use Nova Color mural paint for these projects. Designs and layouts can be created via the computer, but in some cases, they'll make pounce patterns and transfer the layouts directly to the walls.
The brothers' father Bill has been selected as project leader for many of these events over the past ten years, and Joe and Ben have kept this tradition alive by being selected as leaders a few times as well. "A project leader designs the mural and manages the site during the event," says Joe. (Note: A Walldog event is typically organized by a group of city/community officials and a few Walldog artists who then make sure other Walldogs will attend and help out.)
Walldog events center on creating a painting for a defunct company with historic significance for the community. "We're all sent a packet of information about some old company that is no longer around that has historic significance for that community. We'll then create an advertisement design reflecting the style of a period of time and then work with a team of other Walldog artists and folks in the community to complete it," says Joe. "The nice thing about the Walldogs movement is that we're constantly trying to get new people onboard."
Check out the slideshow here for some of the other commissioned and Walldog mural work Diaz Sign Art has been involved with:
{2j_imageviewer 5}