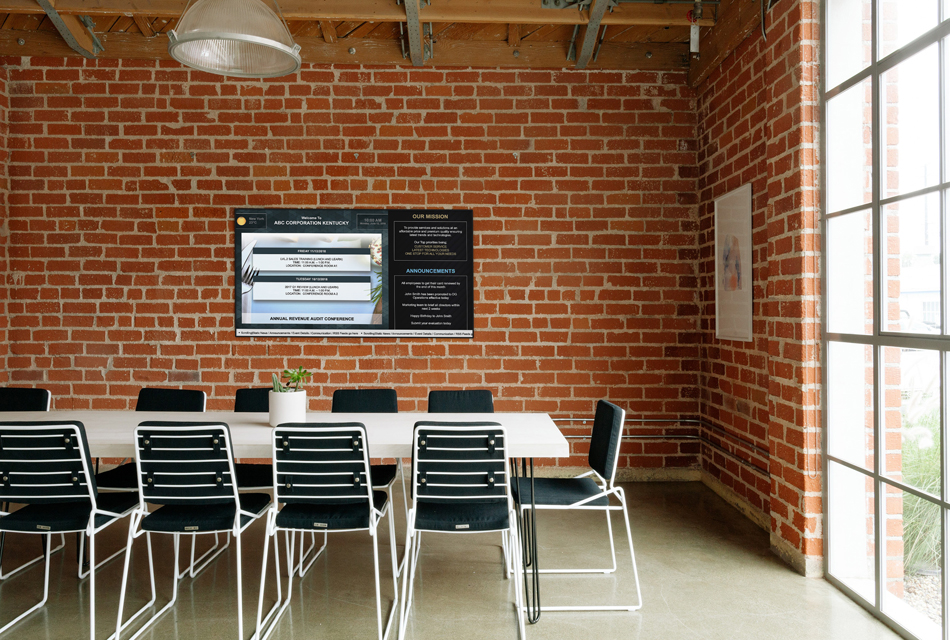 Digital signage for corporate communications allows organizations to expand their communications strategy operations easily. Digital signage for corporate communications delivers a multitude of benefits to organizations such as:
Enhance employee's attitude by recognizing employees' contribution;
Improve customer service by continuously training employees with new training videos;
Craft customized messages that are appropriate for signs location and viewers; and
Ensure compliances by displaying safety warnings, days without accidents, and reminders
Here are seven major ways on how digital signage for corporate communications can be used that you can explain to these types of customers:
Strengthen Corporate Culture. A strong company culture creates a positive impact on all levels of the organization. It improves the connection that you have with an employee while inspiring action. Use digital signage for corporate communications to aid broadcasting companies' missions and goals and distribute messages across multiple display and/or locations. Changes to the individual display or an entire network of the display can be made with one click.
Companies can also use digital signage for corporate communications to recognize workers' accomplishments openly. This motivates while creating a positive work setting.
Digital signage for corporate communications can also be used as an essential tool to increase collaboration and heighten internal marketing. It keeps the entire staff aware of what's going on in different departments. This improves engagement rate while reducing turnover rates.
Improve Employee Training. Digital signage for corporate communications is a highly effective way to train new employees and educate existing employees on new products and services. Digital signage can be used to display training videos and demonstrate new procedures to keep employees empowered.
From a computer, managers can deliver new information to employees right at their stations. Plus it is vital for sharing new on-demand announcements and orientations that have to be displayed at specific times of the day. With digital signage for corporate communications, one can pre-schedule information to play on specific days and times automatically.
Share Internal Company Metrics. With digital signage for corporate communications, managers can monitor and share their company's overall sales performance numbers. They update and display production and internal company statistics. This way, employees will be able to visibly see their set goals and track where they have to be.
When the right internal business metrics are shared, employees will be further motivated to improve their performances while also creating natural competition among staff, teams, and other locations.
Displays can also be used to feature financial results, stock market prices, sales figures, market ranking, and more; everyone will have an idea of where the company stands.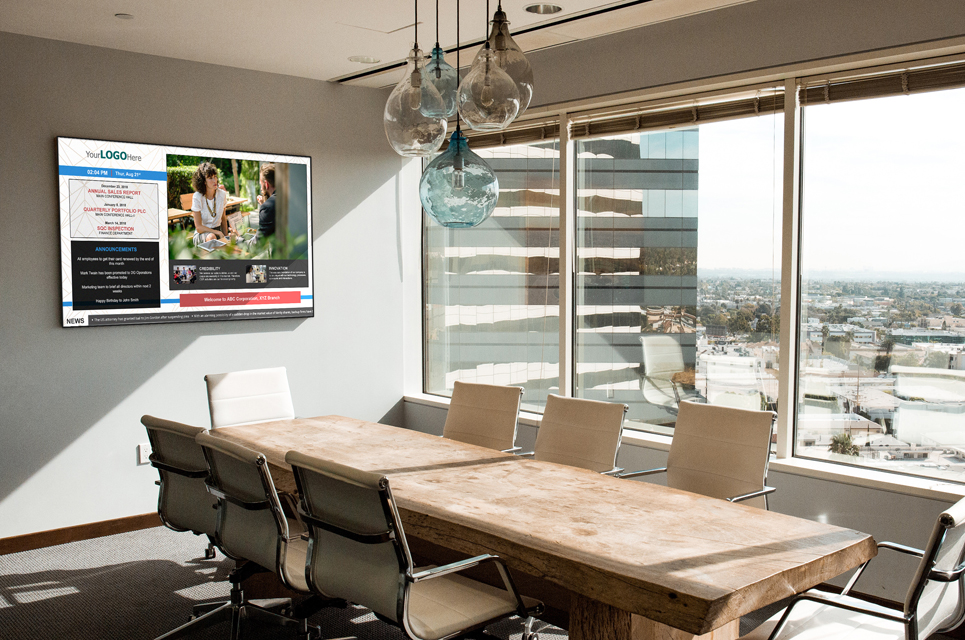 Make sure you install the digital signage in strategic locations within the facility so that both managers and employees can check them frequently. It can be displayed in communal areas, factory floor, meeting rooms, and hallways.
Identify success. Make employees feel important by recognizing their contribution to the company. Help improve the performance of employees by recognizing go-getters, tops salespeople, and customer testimonials. This promotes natural competition that is, in turn, fun.
Turn employees into brand advocates. Digital signage for employee communications keeps employees engaged with what's going in within a company. By consistently displaying new and compelling content that is fun and informative, companies will dramatically enhance brand awareness across the organization. This elevation of awareness will spread to their customers.
Employee Engagement. Digital signage for employee communication is one of the most effective ways to consistently communicate with employees on a daily basis. Here's how one can use digital signage to drive new employee engagements:
Communicate essential company notifications and bulletins;
Spotlight upcoming corporate events, important meetings, and schedules;
Strengthen company beliefs, display mission statement, and goals;
Highlight the corporate brand and its uniqueness; and
Recognize department, team, and individual employee triumphs
Digital Directories. Make it easy for guests to access important wayfinding information. With a digital directory, one can add facility maps, contact information, suite numbers, and more.
Digital directories can be updated in real-time from any location and they can list tenants by floor, suite number, or alphabetically. In addition to the listings, a company can personalize the content of the screen with custom welcome messages for specific guests and clients. Also, property managers can also add a section to the sign promoting leasing opportunities and include contact information.
Conclusion
No matter how a company communicates, digital signage for corporate communications remains to be an excellent tool for sharing information. If used correctly, these types of clients can remotely update information on a regular basis. This leads to a significant enhancement in the way they internally and externally communicate with employees, guests, vendors, and customers.
Once they understand the benefits that digital signage for corporate communications can bring their organization, they can begin using it.
—Chad Bogan, NoviSign Digital Signage