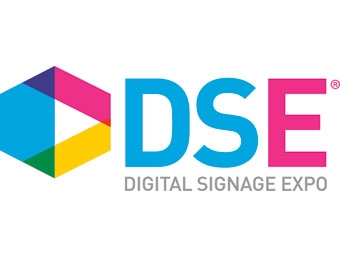 DSE,the world's largest and longest-running International Conference and Tradeshow dedicated exclusively to showcasing innovative digital communications technologies including interactive solutions for customer- and employee-facing organizations, and digital signage networks, announced that registration for its educational conference is now open.
For more information or to register online go to: www.digitalsignageexpo.net
NEW FOR 2015 –
Idea Exchange Education Seminars
Expanded End User track – 12 seminar sessions led by peer presenters
Educational track specifically for Systems Integrators & Installers
Spanish-language track for International and North American attendees
Advertising Agency track for creative directors & new business professionals
Pre-show DSF Thought Leadership Breakfast on Future Trends in Digital Signage
Pre-show Corporate Communications Employee Summit
"The education program will offer more choices for attendees who are already invested in digital signage solutions, but who need additional guidance or are looking to take their installations to the 'next' level," said Richard Lebovitz, editorial director, Digital Signage for ExpoNation, which produces DSE. "DSE will continue to offer a Fundamentals curriculum, including pre- and post-show certification programs for those new to the industry."
In addition to traditional lecture or panel presentations featuring outstanding faculty of peer professionals and industry specialists, attendees can also choose from "Idea Exchange" sessions that feature a collaborative peer-to-peer learning experience.
The program, to offer a choice of thirty-two general conference sessions, has also been reformatted to include relevant topics vetted by both the DSE Advisory Board and Educational Oversight Committees comprised of volunteers whose expertise and experience helped shape the 2015 curriculum, which includes eight tracks:
Digital Signage Fundamentals
Digital Out-of-Home Network Operators
Advertising Agencies
End Users – (3 tracks)
Systems Integrators and Installers
An All Spanish-language
In addition to the seminar curriculum, DSE 2015 will feature nine pre- and post-show programs, fourteen free on-floor workshops, forty of the popular "Industry Vertical Roundtable Discussion Groups," and a program of study to ensure certification renewal in cooperation with the Digital Signage Experts Group.
Mark your calendar now: DSE® 2015, co-located with the Digital Content Show, is scheduled for March 10-12, 2015, with access to the Exhibit Hall March 11 & 12 at the Las Vegas Convention Center in Las Vegas. To reserve exhibit space contact Jeanne Phillips, (770) 817-5903. Or, for more information, visit www.DSE2015.com
You can follow DSE on Twitter at DSExpo, or for all DSE 2015 updates, use #dse2015. For year-round news and information on digital signage, visit DSE's new Digital Signage Connection web portal at www.digitalsignageconnection.com.