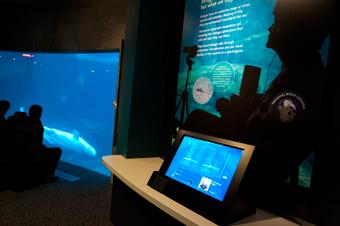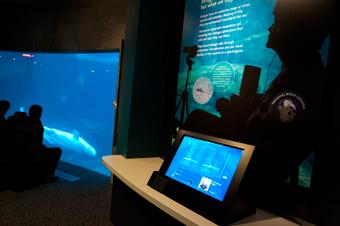 Since its inception at Vancouver's Stanley Park in 1956, the Vancouver Aquarium has been internationally recognized for excellence in the display and interpretation of the animals in its care. It was the first facility to incorporate professional naturalists into its galleries to explain animal behavior and natural history, and it has continued to find innovative ways to fulfill its promise to amaze and inspire its visitors.
But its mission has become much more challenging in the digital age. Where visitors were once content to look at the animals on display and read a little information about them on static signs, today's TV-raised generation expects more flash and sizzle in the way information is presented to them.
"We're in an increasingly connected world, and in the past few years we've built our galleries on the concept of being actively connected," says Jeff Heywood, acting director of content at the Vancouver Aquarium. "We don't want to build a gallery, leave it up for five or ten years, then take it down and change it. We want our galleries to be changing constantly, so when visitors return it's always a new experience."
To keep the exhibits fresh and engaging, the Aquarium decided to incorporate digital displays and communications solutions into the galleries. "We had a lot of ideas as to what we wanted to do, but we didn't have a great way of doing them," says Heywood. "We needed to find a digital communication platform that offered a great deal of flexibility, while not requiring the operator to be a technology expert. It had to allow us to incorporate text, video, wayfinding, interactivity, and things we hadn't even thought of yet."
Enter Four Winds Interactive (FWi). The digital signage software provider offered a solution
that allowed for flexibility and versatility. "We needed a solution that would allow us to be creative, play with some ideas, see which ones worked, and which ones didn't, and then build on our successes," says Heywood. "FWi made it easy to do that."
The Aquarium is currently using FWi to manage twenty-five screens throughout the more than 100,000-square-foot facility. The remaining screens will be converted to FWi in the near future, bringing the total to more than fifty screens that will be scheduled by one person and maintained by one other. For a non-profit like the Aquarium, managing the process with so few resources is critical to its success. Plus the FWi system does not rely on proprietary hardware or software, so the organization is not tied down to one particular system.
"The ability for FWi to point to a database outside its system – in our case Sharepoint – and draw information from it is very important," says Heywood. "We can enter the data once and use it wherever we need it. The organizational tools within FWi make it very efficient as well."
To get an idea of the benefits of the new system, one only has to walk through the Arctic Gallery portion of the Aquarium. The Gallery features several screens that display a range of content. A 46-inch touchscreen provides a variety of information to visitors, including maps, future promotions and programs, and more.
Aside from this main screen, there are a number of touchscreens throughout the Arctic Gallery that use FWi's technology to host Flash videos. Some are simple Flash interactive mechanisms, where you push a button to start the video, while others are heavily scripted. Despite having widely different applications, they all run off the same FWi software.
Also in the Arctic Gallery is a large plasma screen that runs 90-second environmental news segments. This screen also displays a live polar bear feed from Churchill, Manitoba, which is a partnership between Vancouver Aquarium and Explore.org. Thanks to FWi, the Aquarium was able to take advantage of the flexibility of the system to have the polar bear feed up only during certain hours. "We only have the camera feed showing when it's light enough to see what's happening, which is until about 3:00 PM our time," says Heywood. "Once it gets dark we turn the feed off and use the real estate on the screen for other things."
Despite being on the cutting edge of digital technology, the Aquarium is already thinking about what lies ahead—which is incorporating the use of iPads and smartphones in the exhibits. "Everyone is walking around with little computers, so giving them more control over what they're seeing is a natural next step," says Heywood. "It will let them tailor their experience to their personal tastes, and give them more reasons to spend more time and come more often."
All of this technology is great, but what is even better is that it supports, rather than distracts, from the animals at the Aquarium—which are the real stars. "We always ask how screens can enhance the visitors' experiences," says Heywood. "FWi's solution makes it easy to deliver the information in a way that keeps our featured animals front and center."
Images courtesy of Four Winds Interactive.