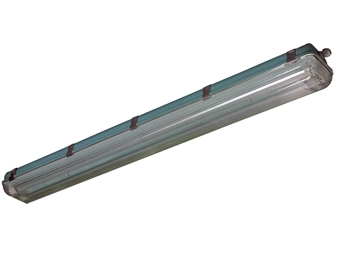 With over forty years as a leader in the industrial lighting industry, Larson Electronics continues its commitment to providing high-grade lighting equipment to specialty markets with the release of a four-foot vapor-proof LED light fixture ideal for outdoor applications.
The GVP-48-2L-LED-D from Larson Electronics is similar to the company's popular explosion proof LED fixtures that provide an LED alternative to fluorescent fixtures. These LED fixtures produce more light output with longer lamp life and are vapor-proof and impact- and vibration-resistant.
The lamps in this vapor-proof fixture are specially designed LED T8 series bulbs that produce 2,415 lumens and have a correlated color temperature of 5,600K.
These fixtures are designed for operators who wish to replace fluorescent fixtures with a unit that offers better light output, longer lamp life with reduced maintenance costs, as well as lower operating costs.
By eliminating the ballast that is normally associated with fluorescent fixtures, the weight of the fixture is significantly reduced and a slimmer profile is created.
With solid-state LED light tubes, this fixture draws less than 0.5 amps of power while offering durability and versatility that common fluorescent fixtures cannot match.
The integral aluminum heat sink tube backings provide cool operation and long LED life, while a simple latching system seals the lens cover to the housing and provides easy access for re-lamping.
These units are designed to be surface mounted or hung from cable or chain and includes built-in mounts.
The GVP-48-2L-LED-D operates on 120 volts AC and is dimmable with dimmer switches such as the Leviton 6633-PLW.
This fixture is ideal for indoor/outdoor applications and suitable for use as general area lighting, shop lighting, work space lighting, garage and warehouse lighting, and anywhere a rugged and dependable fixture with high output and efficiency is needed.
"The solid state design of the LED lamps provides this fixture with a longer operational life without high maintenance costs," said Rob Bresnahan with Larsonelectronics.com. "The two LED tube lamps in this unit provide more output and longer lamp life than that of a fluorescent fixture."