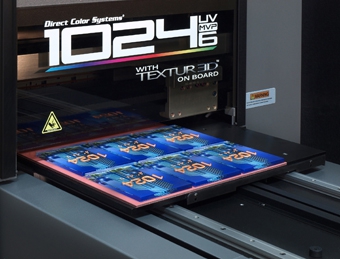 Direct Color Systems® ("Direct Color LLC") has received a Notice of Allowance for U.S. Patent Application No. 14/780,346 entitled "ADA-Compliant Braille Signage Printer and Method of Printing UV LED Curable Ink Using a Flat Bed Ink Jet Printer." The Notice indicates that all of the pending claims in the patent application are allowable, directed to various aspects of Direct Color Systems' printer and process for producing ADA-compliant Braille signs efficiently with a high degree of control over dot height and dot accuracy. Issuance of the patent is expected in the coming months.
"The ability to digitally print ADA-compliant Braille signage has been one of the more popular applications for our UV LED printers over the past few years. From architectural signage companies and non-profit organizations to educational institutions and sign shops, the variety of those purchasing equipment for this application continues to grow," says Blair Allen, president of Direct Color Systems. "This Notice of Allowance is another step towards receiving our patent for this process, something the entire team at DCS has worked diligently to achieve."
With the DCS line of UV LED printers, users have the unprecedented option of either first-surface or second-surface graphics when creating raised-texture signage on acrylic substrates. Standard six-by-eight-inch signs can be output in less than four minutes, with a full digitally printed background, raised letters and Braille dots.
Known for pushing the industry forward, Direct Color Systems has brought to market advanced UV LED printing features and applications like this patent for ADA/Braille signage printing process, cylindrical and conical printing with the EasyCyl, a complete bulk white ink circulation system, DTG capabilities with UV ink, TEXTUR3D™, conductive ink/additive manufacturing printing, and many more.
Direct Color Systems will be showcasing this ADA-Compliant Braille sign printing process at the upcoming 2016 SGIA Expo in Las Vegas and at numerous other tradeshows around the world.
For more information, sample requests, or demo options, contact Direct Color Systems at [email protected] or www.directcolorsystems.com. Photos and videos of the ADA-compliant Braille sign printing process can also be found at www.twitter.com/DCS_US and on the DCS Facebook page.