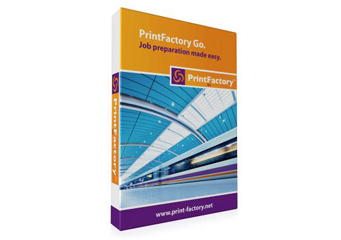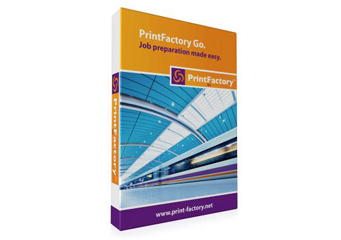 Four Pees
, exclusive worldwide distributor of the
PrintFactory
software suite for banner, sign and super wide format printing, announces its presence at SGIA 2011, the North American tradeshow for specialty printing and imaging printing, where they will showcase the recently released PrintFactory Go as an extension of the product line at the Color Management Group booth 353.
Four Pees will be present at the booth of the newly appointed partner Color Management Group where they will show you the complete PrintFactory portfolio and introduce you to the new PrintFactory 4.2, which includes new features, fixes reported problems, and also updates the earlier announced stand-alone version PrintFactory Go.
The PrintFactory product line
By introducing PrintFactory Go, Four Pees now offers a complete line of LFP products that caters to the needs of all types of LFP customers:
PrintFactory Go offers stand-alone correction and production preparation for large format printing
PrintFactory is the complete production suite for banner, sign and super wide format printing
PrintFactory GMG Edition is the all-in-one solution for standardized Large Format Production
PrintFactory Go: stand-alone correction and production preparation
PrintFactory Go offers the same job preparation and last minute correction tools the PrintFactory suite has to offer, in an easy-to-use, stand-alone application. Whether you need to combine and correct multiple jobs, make edits on color, masks, shapes, scaling, rotation, mirroring, create tiles, or place grommets, PrintFactory Go puts all of the tools at your fingertips. Targeted specifically at digital large format print users, it offers a comprehensive collection of pre-production tools saving time and reducing error and waste.
PrintFactory: more than a RIP
PrintFactory is the most complete production solution for large format printing. It has all the tools needed to cover the entire LFP workflow from dedicated job preparation over colormanagement to printing and cutting. The product suite prints jobs as they are being processed, driving over 600 different printing, cutting and CTS devices.
PrintFactory not only increases productivity and operator flexibility, it also allows for more efficient production. The advanced color engine can easily introduce proofing in workflows, reducing waste of expensive production media and ink. With PrintFactory, a predictable and consistent output is generated and color consistency can be achieved on different machines.
PrintFactory 4.2 features a streamlined output interface offering an even more productive print and cut workflow. By allowing to select printer, medium and output mode directly in the document window and launching the Driver Settings dialog. With version 4.2 it is now also possible to print multi-page documents on desktop printers.
In PrintFactory Editor, the Production Bar allows you to select the cutting device. And besides the option of printing multi-page documents on desktop printers, you can now also view a colored wireframe display of cut layers and perform cutter tool selection per layer.
The new PrintFactory RIP makes it possible to create virtual queues for each cutter device so there's no longer a need to manually create queues. Version 4.2 also offers some major new features with regards to device and driver support.
PrintFactory GMG Edition
PrintFactory GMG Edition is the most complete production solution for large format printing. Through the integration of the GMG ColorServer color management software and the GMG SmartProfiler profiling and calibration tool, PrintFactory GMG Edition not only increases productivity and operator flexibility, it provides consistent colors and the highest production reliability. GMG ColorServer processes any kind of color conversions fully automatically in order to obtain uniform color standards. GMG SmartProfiler is the user-friendly solution for creating GMG ColorServer color profiles and printer calibrations for Large Format Printing systems. Thus, GMG ColorServer and GMG SmartProfiler ensure cross-media consistency while maintaining the same color and print quality.
Prices and availability
PrintFactory Go is immediately available from $2,799. PrintFactory 4.2 is a free update for all existing 4.x users. An upgrade path is available for users of previous ProofMaster and PrintFactory versions. Contact [email protected] or [email protected] for more information.