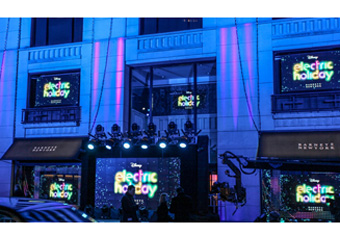 The world of high fashion comes to life in brilliant colors as multiple configurations of 425 Christie® MicroTiles® light up the windows of Barneys New York flagship store at 660 Madison Avenue, for their "Electric Holiday" display. A partnership between The Walt Disney Company, Barneys New York, and Christie, "Electric Holiday" is a multimedia presentation highlighted by a digitally-animated, moving art short featuring Disney characters Minnie Mouse, Mickey Mouse, Goofy, and Daisy Duck, as they strut the runway in original designer clothes. The short is the highlight of the high tech light show, accompanied by an original score by Oscar® winning composer Michael Giacchino.
Following the world premiere on November 14, the eight-minute art short will continue to loop throughout the day on the Christie MicroTiles. The window displays will be up until January 3, 2013. Visit www.christiedigital.com/electricholiday to learn more about the display and if visiting over the holidays, post your photos on the company's wall at www.facebook.com/christiedigital.com.
"We are thrilled to be working with the experts at Christie on Disney Electric Holiday Windows at Barneys New York. Disney and Barneys wanted to create a visually stunning window display unlike any other and the Christie MicroTiles—with their high resolution, shallow depth, virtually seamless canvas, and true-to-life image quality—made that possible. Utilizing 565 square feet of MicroTiles and 50 million pixels we are able to create a brilliant light and video show that will light up Madison Ave throughout the Holidays," remarked Lylle Breier, SVP World Wide Special Events, Walt Disney Studios.
"'Electric Holiday' is a stellar combination of state-of-the art animation, lights, music, and fashion that will encompass eight windows of Barneys New York's Madison Avenue store and represents one of the most complex combinations of shapes, resolution, size and depth of field ever used with the Christie MicroTiles," said Sean James, vice president, Managed Services, Christie. "From the realization of the high-concept moving art short to the multi-layered arrangement of MicroTiles, it is a triumph of technical, creative and artistic vision never seen before on a holiday window display."
Christie's Managed Services team provided technical consultation at every stage of the installation, from concept finalization, to pre-staging, to on-site set-up, expanding on its long history of collaboration with Disney. Christie projection technologies have powered some of Disney's most famous world premiere events, including "Pirates of the Caribbean" and "High School Musical". Each window will feature an array of Christie MicroTiles in a staggered, multi-layer set-up of various shapes and depths, surrounded by bright meshes of lights that will be synchronized with the music.
Right Technology at the Right Place
The shallow depth of the display windows presented an especially daunting challenge, eliminating technology that required substantial space. Flat panels were considered, but their thick bezels significantly distracted from the display, which needed to appear nearly seamless.
Christie MicroTiles were the answer. Lightweight and shallow rear projection modules approximately 16-by-12 inches, they are less than a foot deep and fit perfectly in the store windows. More importantly, they have a nearly invisible 1mm gap between the tiles for seamless images and can be scaled to any size, shape and orientation, forming a digital canvas of the highest brightness and resolution. As well, with a viewing angle of 180 degrees, every view from the street offers "the best seat in the house", regardless of where one is standing.
The Best and the Brightest
Harnessing the strengths of both DLP® projection and LED technology, Christie MicroTiles offer substantially brighter images and a much wider color palette than conventional flat panel LCD and plasma displays. The result is a digital canvas composed of 425 MicroTiles in a combination of portrait and landscape modes, generating the equivalent of a 600 square foot image spread across 2,275 square feet of building. The complex design of the display includes:
* 565 square feet of Christie MicroTiles digital canvas;
* 50 million pixels of resolution;
* 15 simultaneous HD video streams;
* 476 square feet of Traxon Mesh;
* 600 feet of A-Deco Pixel strings; andFfive d3 Media Servers
"'Electric Holiday' is truly a collaboration of some of the 'best of the best' in the world," continued Sean James. "Achieving such a technological and creative triumph required a true partnership of trust among all the contributors. It represents the best in fashion from Barneys New York, the best in Entertainment from Disney, and the best in visual technology from Christie. "
VP of Christie's Entertainment Solutions roup Craig Sholder added, "Christie and Disney share a long and successful history of collaboration, staging some of the industry's most memorable multimedia events. Our latest partnership for 'Electric Holiday' continues in that tradition of success. We look forward to Christie technology, the Disney magic, and Barneys' sense of fashion thrilling shoppers from around the world during the holiday season."