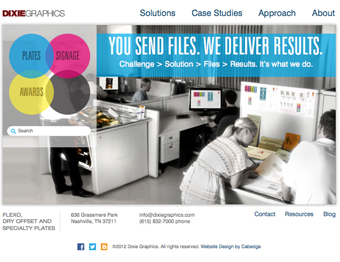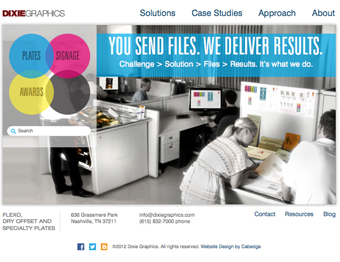 Dixie Graphics, a national provider of prepress print and architectural signage solutions, will add new technology to its existing repertoire in 2013, along with enriched leadership and strategies for growth, President Pat Meadows announced.
Leadership
Matt Williams, who has managed the company's architectural signage division, is now Vice President of Business Development for Dixie Graphics. Williams will direct the company's overall growth initiatives including the architectural division's positioning as a solutions provider for designers and fabricators in the signage industry.
Williams, along with VP Manufacturing Jay Avrett and VP Finance Richard Godel form the company's leadership group.
Dixie Graphics entered the sign industry in the 1990s as a manufacturer of etched zinc and has become the foremost solution for ADA, wayfinding, and interpretive applications. As a customer-driven provider focused on quality, service, and delivery, Dixie uses multiple materials and processes, including etched zinc, Novacryl photopolymer, flatbed digital printing, and vinyl graphics, as an integral part of its projects.
New Product Services
In 2013, Dixie will introduce 3D proofing capabilities to designers and fabricators via Esko-Graphics Studio software. A 3D proof will allow users to rotate and zoom with objects showing vivid, on-screen representation of a finished sign or plaque. "This is just one solution we're bringing to address something we're asked to do regularly by clients—show the finished sign…yesterday!" Williams said. "We still can't do it yesterday, but now we can the same day.
"It's important not only to hear customers' needs but to act on them; and with 3D, it shows that we do that."
As a full-service provider to sign fabricators, project management, and ADA code compliance and documentation add to and complement Dixie Graphics' diversity in materials, processes, and finish options. Ultra-precise Kongsberg table-cutting will make almost any cut possible for signage in sizes up to fifty square feet, including large Mimaki flatbed digital print signs on materials less than two inches thick.
Strategy
"We love zinc, but we do more than zinc—a lot more" is how Williams describes continued efforts to brand Dixie Graphics as a sign fabricator's one-stop shop.
To drive this initiative, the company has named Megan Kinzie as Digital Marketing Coordinator, a role in which she will maximize effectiveness of its new Web site, as well as industry and customer engagement through social media platforms.
The new Web site www.dixiegraphics.com features landing pages for each of the company's three divisions: Plates (prepress graphics, plate making); Signs (ADA signage); and Awards (dedication, award plaques.) The site is also home to Dixie Graphics' blog with articles on topics related to each of the company's divisions. The site's navigation allows users to experience the diversity of the company in a central web setting, and reinforces the company's unified brand and message, while being multiple in its products and services.