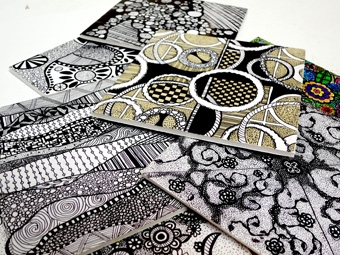 For all former pint-sized Picassos who got in trouble for doodling during class and who've grown up to be drawn to drawing during business meetings, the non-profit Chesterfield Arts organization of Chesterfield, Missouri, has news you'll want to hear:
Doodling is good for you.
At a recent "Doodle Party"—a Chesterfield Arts "Art Uncorked Workshop for Adults"—teacher and professional artist Mary Beth Shaw of Wildwood, Missouri, cited a January 19 TV segment on CBS Sunday Morning that touted the benefits of doodling, including a 2009 research study published in the Applied Cognitive Psychology journal. Volunteers were played a boring voicemail with some asked to doodle and others just to listen. The study found that doodlers remembered 29 percent more details from the voicemail than the non-doodlers.
Shaw has doodled for years during airplane flights or while watching television at home. Her favorite rigid medium for doodling is a piece of Fome-Cor® board cut with a sharp artist's knife to a purse-sized 6-inch by 6-inch square. She decorates the Fome-Cor board with a black Identi®-pen permanent marker by Sakura.
"I love doodling on Fome-Cor board's smooth white surface with a super black pen," said Shaw. "It's rigid enough that I can safely put it in my purse. Add one pen and you're good to go."
Fome-Cor board by 3A Composites USA was the first foam board on the market and is still the board that graphic artists' ask for by name. It consists of extruded polystyrene foam bonded between various high-quality papers that feature a smooth surface for decorating. Fome-Cor board is lightweight, rigid, warp-resistant and easy to cut. Fome-Cor board is available in the 1/8-inch, 3/16-inch, and 3/8-inch thicknesses in standard sheet sizes ranging from 20 inches-by-30 inches to 60 inches-by-120 inches. 3A Composites USA provided Fome-Cor board in the 3/16-inch thickness and Bright White color for Chesterfield Arts' "Doodle Party."
Shaw—who donated her time to help a class of fourteen students learn to doodle—said it's important for adults to participate in the creation of art because it's something that we all start out doing as kids. She recalled her young nephew's comical remark when she told him several years back that she was returning to school to learn to draw.
"I already know how to draw," said the boy, then age 6. "I'm going to school to learn to read."
"We all used to know how to draw," said Shaw. "We lose our interest in creating art as adults. … Doodling is so easy. It's just lines and shapes."
To make the doodling process even more simple than free-hand drawing, Shaw encouraged students to incorporate unique shapes into their doodle art by tracing some of her StencilGirl stencils.
"The arts are important in education," said Annie Spiller, director of education and outreach, Chesterfield Arts. "It teaches us culture, individuality and self-expression—all of which are important in creating a well-rounded human being."
Chesterfield Arts provides quality and diverse programming in the visual, performing, and literary arts, promotes public art and arts education, and serves as a resource for arts information in the West St. Louis County (Mo.) region, according to the organization's mission statement.
Donations—such as the Fome-Cor board provided for the "Doodle Party"—are always appreciated by Chesterfield Arts, according to Spiller.
"Fome-Cor board is such a staple," said Spiller. "We use it in just about anything we do here—from mounting artwork to creating mixed media drawings to painting. Donations play a huge role in supporting non-profit organizations. Every dollar of class registration fees usually goes to covering the cost of the class, including instructors' fees and supplies."
"We encourage fabricators utilizing 3A Composites' graphic display boards to support their local schools and arts education organizations with left-over rigid substrates from large jobs," said Brandon Wyatt, marketing manager, 3A Composites USA. "Not only is it a great way to support local arts education, you just might help to inspire a student to join our industry as a professional graphic designer."
For more information about the mixed media art, paintings and encaustics of artist Mary Beth Shaw, visit www.mbshaw.com. For more information about Chesterfield Arts, visit www.chesterfieldarts.org.
For more information about Fome-Cor graphic display board, call 800/626-3365, email [email protected], or visit www.GraphicDisplay.com.