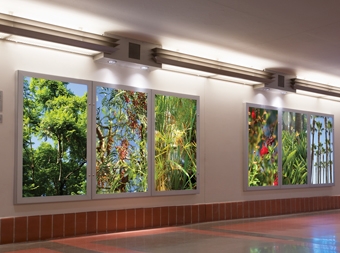 LED Light Boxes from DSA Phototech were selected to showcase the groundbreaking "The Heart of Los Angeles" exhibition at Los Angeles Union Station. The exhibition was launched this past May as part of the station's 75th anniversary celebration.
"The Heart of Los Angeles" consists of thirty photographic artworks from five accomplished artists: Suzanne Adelman (artwork pictured), Sam Comen, Kevin McCollister, Jim McHugh, and Catherine Opie. These photographs showcase Los Angeles Union Station's role in the community in a variety of ways, ranging from the station's cultural significance and architectural heritage to transit usage and the station's social relationship with surrounding neighborhoods.
As this art installation will be on prominent display for one year, it will be seen by thousands of visitors. Through DSA Phototech's LED Light Boxes, visitors to the station will view the works of "The Heart of Los Angeles" in an optimal fashion thus enhancing the overall viewing experience.
Heidi Zeller, Creative Services manager at LA Metro, said, "The quality of work DSA Phototech provided was excellent and presents the artists' work in a truly lovely manner. Plus, we've found the light boxes to be very user-friendly. They are an elegant and streamlined solution to enhancing a high profile public transit space."
DSA Phototech's Hidden Hinge LED Light Boxes provide bright and even illumination that is ideal for both graphics and artwork, and they can be placed in a wide range of locations. The durable and lightweight aluminum frames have an ADA-compliant frame depth of 3.875 inches. Their concealed hinge doors allow for rapid change outs and make the Light Boxes very easy to use. Additionally, the two-lock system provides an added level of security.
Made in the USA and featuring a two-year warranty, DSA Phototech's Light Boxes are UL-listed for safety and code compliance. This cutting-edge LED light box solution features extremely low operating and maintenance costs and is rated for 100,000 hours.