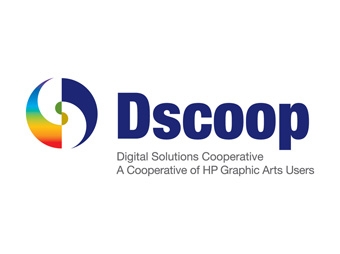 Digital Solutions Cooperative (Dscoop) will be at PRINT 13, September 8-12, showcasing its newest member benefits: the Designer Tutorial and the Signature Sample Series. Dscoop members, volunteers and staff will be in the HP booth (#1241) on the show floor to demonstrate and discuss these new opportunities with attendees.
"Since 2005, Dscoop has been steadily working to equip our members with the education and communication tools necessary to help drive profitable growth. Because market demand is constantly transforming, our priority is to provide the information our members need in order to deliver their best work for their clients," says Dscoop Global Executive Director Mike Fogarty. "With its focus on innovation, PRINT 13 is a great place to debut these offerings."
The Designer Tutorial educates designers on how to design specifically for the HP Indigo's special capabilities, such as white ink, raised print, variable data printing and more. As the newest addition to Dscoop's Customer Communication Tools, the Signature Sample Series provides Dscoop members with eighteen sample image files specifically chosen to showcase the HP Indigo's capabilities as well. Both of these initiatives were created in conjunction with HP and Dscoop Partners, and were designed to help position Dscoop members as leaders in their field and showcase the array of features available on the HP Indigo.
In addition to highlighting new membership offerings, Dscoop will announce the theme for Dscoop9, the ninth annual Dscoop conference, during PRINT 13. Dscoop9 will be held March 6-8, 2014 at the Gaylord Palms Resort & Convention Center in Orlando, Florida.
Dscoop members are also invited to attend the Dscoop PRINT 13 Party, held Monday, September 9. Dscoop members will be limited to five guests per member company, and Dscoop Partners will be limited to two guests per company. Email confirmation and photo ID must be presented to enter the party.
View more information and register for the party at www.Dscoop.org.