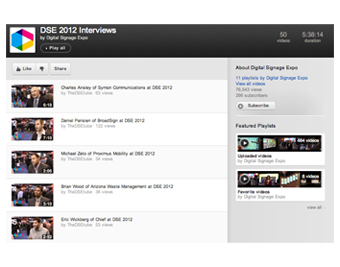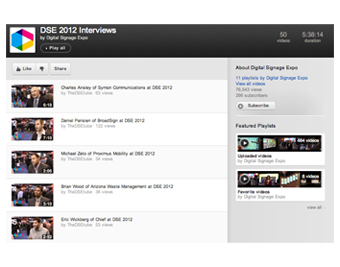 Digital Signage Expo (DSE), the world's largest International Tradeshow and Conference dedicated to digital signage, interactive technology and digital out-of-home networks (DOOH), has announced that fifty video interviews conducted with DS professionals at DSE 2012 are now available to view for free on YouTube.
The interviews (conducted with keynote presenters, conference speakers, major industry players, independent experts, and other DS professionals) each run between two to ten minutes in length and provide insight into the state of the industry, future trends, global business opportunities, and the technological developments that are seen as key contributors to industry growth.
Susie McManus-Sanders, DSE's Web editor said, "One of the wonderful things about the digital signage industry is the willingness of professionals to share their expertise. This interview series is a fabulous opportunity to hear directly from industry experts about where they think the greatest business opportunities are and what factors are having and will have the greatest impact on our industry's growth. There is a lot of anecdotal information that is definitely worth taking the time to see."
Digital Signage Expo® 2013, co-located with the Interactive Technology Expo and Digital Content Show, is scheduled for February 26-28, 2013, at the Las Vegas Convention Center in Las Vegas. For more information, visit www.digitalsignageexpo.net. You can follow DSE on Twitter at DSExpo or for all DSE 2013 updates, use #dse2013.
For year-round news and information on digital signage, visit DSE's new Digital Signage Connection Web portal at www.digitalsignageconnection.com.