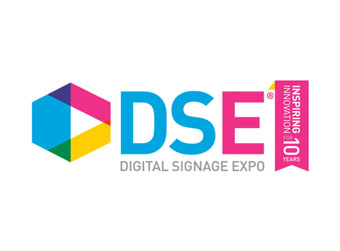 Digital Signage Expo® (DSE), the world's largest and longest running International Tradeshow and Conference dedicated to digital signage, interactive technology and digital out-of-home networks (DOOH), announces that its 2013 Educational Conference will feature four individual full-day educational programs for Digital Signage Expert Group (DSEG) certification or renewal credits, presented by Brawn Consulting, and a full slate of courses for certification renewal credit.
Tuesday, February 26—9am-5pm
Digital Signage Certified Expert (DSCE)
Designed for anyone whose professional involvement requires a full understanding of all the elements of digital signage and the interconnected technologies that produce the images on screen.
Digital Signage Display Expert (DSDE)
Designed for those who are responsible for video outputs and need a better understanding of each calibration technology and the key elements that can be adjusted with one another and within the environment in which they exist.
Friday, March 1—9am-5pm
Digital Signage Network Expert (DSNE)
Designed for those who are responsible for the complex elements of network operations. Session will cover LANs, WANs, network topology, basic layout and design, different modes and connectivity as well as security.
Digital Signage Content & Media Expert Program (DCME)
Designed for content creators and managers, this brand new program addresses how content fits into a digital signage or DOOH system, what makes content most effective in this medium, the cost of content, and how to measure it.
Courses eligible for certification renewal credits at DSE 2013 include SPEED ON…Network Optimization Strategies, a new half-day, pre-show course from The BUNN Co.; Glasses-Free 3D Digital Signage – The Complete Guide to a Successful Experience, a pre-show program presented by Insight Media; and all 32 approved seminars on the DSE general conference program.
DSEG certification information is available at http://www.digitalsignageexpo.net/certification.
Registration for the pre- or post-show certifications programs, or any of the educational programs at DSE, which are eligible for certification renewal credits, is available at www.digitalsignageexpo.net.
About Brawn Consulting
Brawn Consulting LLC, an audiovisual and digital signage education and research consulting firm, in conjunction with recognized experts in the commercial AV and digital signage/DOOH industries, has founded the Digital Signage Experts Group (DSEG), an impartial, agnostic and vendor neutral certification organization offering training and certifications to the industry as a whole. The DSEG certification program is recognized by the Digital Signage Expo, the Digital Signage Federation and the major manufacturers, distributors, resellers, content providers and network operators that make up the digital signage/DOOH industry. Continuing education credits for seminars taken at the Digital Signage Expo will be applied toward renewal of all DSEG certifications.
About Digital Signage Expo
Digital Signage Expo® 2013, co-located with the Interactive Technology Expo and Digital Content Show, will present its three-day conference on February 26-28, 2013. The Exhibition Hall will open for two days on February 27-28, at the Las Vegas Convention Center in Las Vegas. For more information, visit www.digitalsignageexpo.net. You can follow DSE on Twitter at DSExpo, or for all DSE 2013 updates, use #dse2013.
For year-round news and information on digital signage, visit DSE's new Digital Signage Connection web portal at www.digitalsignageconnection.com.