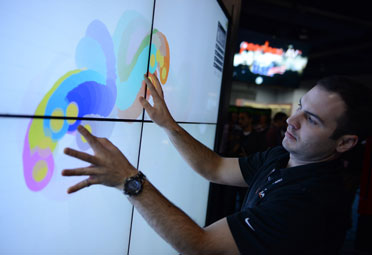 Digital Signage Expo 2014 is fast approaching—it takes place February 11-13, 2014 at the Sands Expo and Convention Center in Las Vegas. And the show is on track to be bigger than ever. "This should be the largest event we've had to date both from a square footage perspective as well as the number of exhibitors," says Chris Gibbs, president and Chief Operating Officer of ExpoNation, LLC, which produces DSE. "There should be more on the floor to see than ever before."
DSE 2014 will feature more than 150 speakers, a variety of education tracks, and an exhibit floor filled with the latest products and innovations in the industry.
The show is a must-attend event whether you're new to the industry or have already been to the expo. "If you think you've seen it all when you've gone to DSE once, you haven't, because the industry continues to evolve in ways that are really surprising," says Richard Leibovitz, editorial director of Digital Signage for Exponation.
If you're company is new to the industry or looking to break in, DSE offers pre-show conferences and education to get them started. "Pre-show functions allow them to get some information, background, and knowledge before they walk on the tradeshow floor so they know what they're looking at, they know what to ask for, and they know how to sift through the vendors," says Gibbs.
One of the pre-show education courses offered is the Digital Signage Certified Expert Program on February 11 from 9 am-5 pm. This introductory course covers the seven key elements of digital signage. The course will also be taught in Spanish for the first time this year.
Another beneficial course for newcomers, "Is Digital Signage Profitable? The Go or No-Go Decision," takes place on February 11 from 9 am-12:30 pm. This half-day session seeks to answer business-related questions about the industry such as, "is digital signage right for my business?" and "what are the different ways for adding digital signage?"
There will be a lot to take in at DSE, and before you step foot on the show floor, you should have an idea of what to expect. To get you ready for the show, SBI spoke with DSE and compiled a list of the digital signage trends you can expect to see and hear about on the expo floor.
1. Ultra HD: Displays are going ultra high-definition and screens and software content are now accommodating this ultra-HD shift. The HD displays are especially in demand for high-end retail stores and interior design applications. "We're seeing a real push for the higher resolution displays because the image is just so brilliant," says Leibovitz. "People talked about the cost being too high, being prohibitive, but I think cost will eventually come down the way it always does with displays."
2. Video Walls: Video walls have been seen in hotels, in retail stores, and in other applications, but the trend is to go bigger. The walls now incorporate more than nine displays.
3. Interactivity: Touch capabilities and even gesture and voice control are all being worked into digital signage. "I think there's the expectation now that when you approach a display that you can touch it and do something with it because we're so used to carrying a mobile device in our hand whether it's a tablet or a smartphone," says Leibovitz.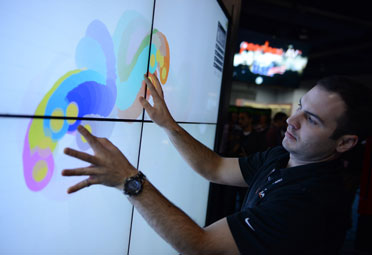 Digital screens are no longer enough to capture the viewing public's attention. "I think more and more people are wanting to be wowed and wanting to be immersed in something," says Gibbs.
4. Gamification: Tying into interactivity and the need to garner more attention, many digital sign producers are starting to gamify their content experiences. Users can do more than just view a display—they can play a game that allows them to win something like a coupon or voucher for a free product.
5. Multiplatform: All the digital dots are now being connected—usually through content. The industry is advocating for the use of HTML5 as the basis for its content management platforms since it can be used across multiple platforms. "You can no longer look at anything digital in isolation," says Leibovitz. "It's all connected in some way. And I think that's going to be a big theme of our event this year in terms of the discussions that are going on."
To register for Digital Signage Expo, visit www.digitalsignageexpo.net.
By Ashley Bray
All Photos: ExpoNation, LLC