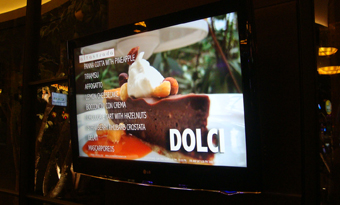 Digital Signage Expo
®
(DSE), the world's largest International Tradeshow and Conference dedicated to digital signage, interactive technology, and digital out-of-home networks (DOOH) will hold its second Industry Forum Sunday through Wednesday, May 15-18, 2011 at the Vinoy Resort & Golf Club in St. Petersburg, FL.
"The fall Industry Forum was so well received that both the sponsoring companies and end-user participants encouraged us to repeat the experience," said Chris Gibbs, President of Exponation, LLC, producer of DSE. Gibbs added, "In particular those who attended enjoyed the opportunity to network, establish new relationships and share strategic thinking on a variety of topical issues."
In addition to educational workshops and motivational industry keynotes, the three-day program will provide networking opportunities employing "speed dating" techniques to provide quick introductions as well as relaxed social gatherings to make it easy to build rapport and establish relationships.
To provide an effective atmosphere for doing business, participation by end-user guest companies will be limited to no more than a total of thirty-two. Companies who are interested in being considered for inclusion can go to the DSE Web site and download the guest form at http://www.digitalsignageexpo.net/IndustryForums/Spring2011.aspx.
There is availability for only 16 sponsoring companies. Those that have already acted to take advantage of this unique opportunity to network include Title Peerless Industries and Program Sponsors Chief Manufacturing, NEC Display Solutions, Allure Global, PRN, Real Digital Media, NCR Netkey, and Panasonic, leaving room for only eight more to sign on.
If on behalf of your company you are interested in sponsoring the spring forum or participating as a hosted end-user guest, please contact Geri Wolff (386) 447-0018, or [email protected].
Mark your calendars now: Digital Signage Expo® 2011, co-located with the Interactive Technology Expo, Out-of-Home Network Show, and Digital Content Show, is scheduled for Feb. 22-25, 2011, at the Las Vegas Convention Center in Las Vegas. To reserve exhibit space or to attend, contact Chris Gibbs, (770) 649-0300 Ext 17. Or, for more information, visit www.digitalsignageexpo.net. You can also follow DSE on Twitter at DSExpo, or for all DSE 2011 updates, use #dse2011.