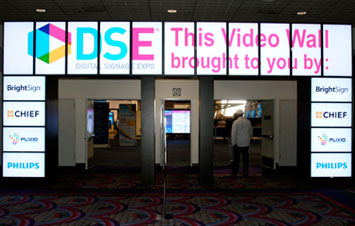 Digital Signage Expo
(DSE) announces that its invitation-only Fall 2011 Forum Event will be held at the Mission Bay Hyatt in San Diego from September 18-21.
The Forum brings together only sixteen top-of-the-line vendors and up to thirty-two qualified end users who confirm that they are planning a significant investment in digital signage technologies in the next 12 to 18 months. The Forum is designed to shorten the time spent in planning and due diligence for prospective digital signage installations, collapse the decision window, and help accelerate industry growth. Past guests have reported that they were able to evaluate project challenges and come away with a variety of potential solutions and plans to enhance their project with the latest technologies.
Only fifteen end-user seats are still available. Those who are interested in being considered for inclusion can go to the DSE Web site and download the guest form to describe their project: http://www.digitalsignageexpo.net/IndustryForums/Fall2011.aspx.
In addition, eleven Forum Sponsors have already committed, leaving only five open seats. If interested in sponsoring the Fall Forum or participating as a hosted end-user guest, contact Geri Wolff at [email protected].