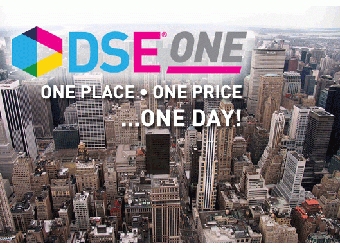 DSE, the world's largest tradeshow for digital display, interactive technology solutions and digital out-of-home networks, today announced a deadline extension for discounted early registration to DSE ONE, now through Friday, October 10.
DSE ONE, a brand-new, full-day education and networking program designed specifically for CXO-level and middle management decision-makers, to be held Tuesday, October 21, will feature:
* Keynote – David Kepron, Creative Director, Brand Experience Studio will present, "Creating Customer Connections in a Digitally Driven World."
* Panel Discussion – "How to Connect People to Place Through Digital Engagement," featuring: Vijay Matthews, Principal, W&Co., Michael Schneider, AV Technical Strategist, ESI Design, Florian Vollmer, Principal, Chief Experience Officer InReality, moderated by Bryan Meszaros, Managing Director, OpenEye.
* A choice of two of eight facilitated one-hour Breakout Discussion Groups, each topic designed to stimulate conversation and encourage shared experiences.
* Exhibit area featuring seventeen leading digital signage technology providers.
Note: As a registered AIA Education Provider, DSE ONE has received approval for the Keynote and Panel discussions so that each qualifies for 1.0 AIA Learning Unit.
DSE ONE will not only provide an immersive look at key industry issues, but also opportunities for peer-to-peer conversations and discussions with a curated selection of leading manufacturers.
Attendee participation at DSE ONE is limited to end-user organizations—specifically, those considering or planning an investment in digital communications and interactive technology solutions in order to communicate more effectively with their customers and employees.
DSE ONE will run 8:00am to 5:00pm on Tuesday, October 21 at the New York Conference Center, 139 W. 39th Street in New York City.
"Early bird" cost for registration prior to October 10 is $ 285 per person, (which includes continental breakfast, lunch, and cocktail reception), $250 per person for DSF members. After October 10, cost to attend will become $385 per person, $350 per person for DSF members. Registration is limited!
More information is available at www.digitalsignageexpo.net/dse-one.