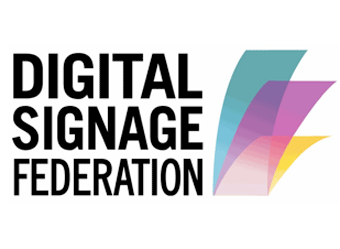 The Digital Signage Federation®, the only independent not-for-profit trade organization serving the digital signage industry, has established a set of new National Standards for Digital Signage Education to provide curriculum guidance for universities, colleges, and specialty schools, throughout North America, wherever areas of study touch on coursework related to the various facets of digital signage.
By establishing National Standards for Digital Signage Education, the DSF has taken an important first step in broadening the labor pool of qualified candidates for future employment in the digital signage industry. As the digital signage industry grows, it is imperative that employers have qualified entry-level choices of personnel to be able to grow their business affordably.
Going forward, the DSF will be working to secure adoption of these Standards by colleges, universities and specialty schools, to provide the guidance necessary to frame their curricula to ensure that graduates have the prerequisites necessary to meet the industry's hiring needs.
Alan Brawn, chairman of the DSF said, "The National Standards for Digital Signage Education is an exciting initiative as it represents the first time in the history of our industry that standards for a digital signage curricula in higher education has been developed. Education is the lifeblood of advancing and furthering our industry and as we progress and move forward, it is vital for us to encourage schools to develop comprehensive programs in digital signage so that a well-educated pipeline of talent is available to organizations.
"Our hope is that by providing common ground to work from, and receiving input from both academia and industry professionals, we can continue to grow and improve the National Standards."
To ensure that graduates meet basic prerequisites for hire, the DSF's National Standards for Digital Signage Education provide a comprehensive descriptions so that educators can either incorporate key information in existing coursework that would be subject appropriate, or introduce new subjects to provide a richer, more relevant educational experience. There are many courses and curricula in many universities, community colleges, and technical schools that already incorporate elements that would contribute to developing a specialty track, certification program, or full degree program that could lead to careers in digital signage.
Key topics incorporated in the new standards by the DSF's Education and Standards Committees include:
+ An understanding of the history of digital signage to be able to comprehend the future direction of the industry;
+ Familiarity with the key elements and components of digital signage;
+ Ability to identify applications potential for digital signage, how application decisions are made, and how digital signage is helping specific sectors;
+ Ability to define and identify proper use of digital signage technologies and how all the elements of digital signage (systems, content, networks, displays, software, and hardware) work together as an integrated digital signage network;
+ General understanding and ability to analyze business concepts, rationale, and decision processes involving digital signage; and
+ Familiarity with correct use of terms broadly used in the digital signage industry.
The DSF updates the standards regularly and solicits input from industry and academic professionals. The DSF Education Committee sets the review process and publishes the updated versions of the standards, and the most current version is published on the DSF Web site.