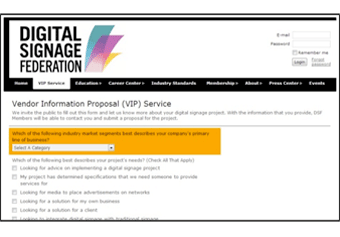 The Digital Signage Federation® (DSF) has announced another new benefit for its members designed to help them attract new business. The DSF's new Vendor Invitation for Proposal (VIP) Service is a new turnkey proposal facilitator designed to make it easy for potential customers to submit an invitation for proposal to qualified providers among the DSF membership.
This VIP Service provides potential customers with a one-stop advantage to allow them to submit their project support, information, and proposal requests all on a simple electronic form. DSF members will be able to view and respond to these submissions, reducing the need for customers to search for qualified companies to fulfill their digital signage needs.
"The DSF's new VIP Service addresses market demand in real time," said DSF Executive Director Brian Gorg. "We receive numerous requests from customers looking for ways to identify companies that can meet their needs."
Not only will customers who have large, well-documented requests for proposals appreciate DSF's new VIP Service, but it will also make it easy for those new to digital signage to define their project and save time in blind research. The VIP Service is a simple process that will allow DSF's highly qualified members to respond directly to these customers armed with a complete understanding of what these customers are trying to accomplish."
DSF's new VIP Service provides a simple form linked from the DSF website and the results will be posted in a members-only section for DSF members to view. DSF members may voluntarily reply to the requests and will be updated by email and social media about new listings.
For more information about this service, please contact DSF Executive Director Brian Gorg at 540/551-5500 or [email protected].